It's Saturday and the wife and kids have decided to go shopping for the day. With the exception of clearing out the shed and a bit of washing up, you are pretty much left to your own devices in the house and are free to pursue whatever activity you wish. This is the perfect opportunity to have a fully deserved day of well-planned and well prepared sports gambling! Whether it be horse racing or football, there are numerous events and opportunities to put your knowledge to the test and see if your predictive skills can convert modest stakes into lucrative profits. 
Thanks to the online betting revolution of the past ten years, there is a myriad of information and opinion out there which will put you in the right direction. But it's not just about picking a few horses or correct scores and placing them on a betting slip. A day of gambling is a ritualistic and methodical exercise which involves a number of key stages and careful planning.
Therefore, I thought I would share a typical Saturday with you to explain exactly what I do and when I do it..and more importantly why. Ideally, it would be possibly more appropriate to explain what I do during one of the premier race meetings and major sports events (such as The Cheltenham Festival or The World Cup) but on this occasion I'm going to talk about an average winter Saturday. The real work, however, really begins on the Friday night..
PRELIMINARY CHECKS ON A FRIDAY NIGHT
It's always a good idea to get a glimpse of what Saturday entails by checking out previews and news on a Friday night. A clearer picture of the Premier League team news is always evident at this time as managers give out soundbites on player's wellbeing and fitness.
Most key websites such as the BBC and major newspaper sites will also have written previews for key fixtures. From a horse racing point of view, there are plenty of Friday night factors to take into account. The weather is the first major factor to consider. An overnight forecast for rain is clearly going to affect the predicted going: rain can easily change the going from good to soft/heavy which will have a major influence on the form guides.
PLACING BETS ON THE FRIDAY?
Is it the best policy to place bets on a Friday night for a Saturday meeting/fixture? In some ways yes. A horse which seems well priced according to the betting forecast should be seized upon at the earliest opportunity, especially if it is the best price advertised from all betting sites. Most people latch onto horses with decent prices on a Saturday morning so it's a good idea to get in before the rush. More information on betting and prices can be read from this previously published article.
Having said that, things can change overnight. Horses declared at the 24 hour stage can be withdrawn on the morning declarations which is inconvenient for changing betting choices. Some firms, although not many these days, are still firm on the antipost rule so bets placed before the day of the race can be classified as standard antipost bets which means your bet will not be refunded if the the horse withdraws. However, this is rare now as most firms offer non-runner no bet during the whole week before although its best worth checking.
BETTING SHOPS OR ONLINE?
With the increase in popularity of online betting and the startling choices of bookmaker plus the exclusive online offers they provide , it will come as no surprise that online betting is clearly the only way to go for sports betting today. The high street bookmaker has clearly come a long way since the days of betting shops being smoky, frosted windowed foreboding premises frequented only by cloth capped pensioners and Jack Duckworth. Coffee machines, comfortable seating, enticing shop window offers and opportunities to play international bingo games have transformed the reputation of the shops. However, the controversy of the fixed odd betting terminal machines have clearly re-tarnished the image of the high street retailers. But for me , it is the lack of value offers that persuades me to be online.
I do miss the routine of having a full English whilst reading The Racing Post and then heading off to the betting shop to place bets, perhaps a chat with the manager, exchange opinions with a punter or two. Perhaps even have a flutter on the morning greyhound meetings. The social side of the betting shop has to be valued but it weighs up insignificantly next to the attraction of the online value and offers.
PRICE CHECKING: WHAT IS BEST ODDS GUARANTEED?
The real work starts here. Whether you've started on Friday night or Saturday morning, getting the best value is an integral part of the sports betting process. The great thing about contemporary betting is the Best Odds Guaranteed offer that nearly all firms now provide. However, it's important to seek out the best available price and this can be easily done through one of the numerous online sites which advertise prices through multiple bookmakers usually by use of a table whereby you are able to make price comparisons.
Once you have found the best price, it's important to check that Best Odds Guaranteed are offered before any bet is placed. Best Odds Guaranteed pretty much explains itself. If you take a price when you place the bet, you are guaranteed to get that price. Great if you've backed a steamer: a horse which has been heavily backed into much shorter odds or if the horse drifts in price, you are guaranteed to get that as well. Therefore if you place a bet of £5 on a 10/1 shot and the SP (starting price) is 14/1, you will be paid at 14/1 not 10/1. Some bookmakers have now added a facility where they will indicate on the betting receipt that you have been paid the best price and the saving you have made.
SINGLES OR ACCUMULATORS?
Once you have made your choices it is then a case of deciding what bet format to choose on. In most scenarios, it will be a straight choice between single bets, doubles/trebles and accumulators. We have written previously about accumulators and how to bet on them, which you can read here . The choice of whether you pick single bets or accumulator bets is often down to the prices. If you've picked a large number of outside bets with high prices, it's probably best to stick to single bets as it's highly likely that any more than one or two will win. Therefore, if one obliges then you will likely see a good return. However, you will be left feeling pretty sick if they all did come in!
The best way to resolve this is to bet using a combination of accumulators and singles. More often than not, I will place one accumulator for predicting Premier League results, one accumulator for horse racing low-medium priced horses and one single bet (usually each way) for an outsider, often running in a large field race. In this scenario, there are often many cases where the each way single bet on an outsider in large fields will break you even on the day if placed, especially with a bookmaker who offers places up to 5th or 6th.
WIN OR EACH WAY?
Deciding whether to bet for the win or place option can be another challenging decision. Offers for each way single bets have certainly increased dramatically in recent years. Under standard betting rules, each way for four places can be offered if it is a handicap and there are 16 runners or more. However, most firms now offer 5th as a bonus place and some go even further and offer up to 7 places. It is not unheard of for firms to offer up to 8 places on large field handicaps such as the Grand National.
Offers for golf betting have also improved to allow bets to include 10 places for the big tournaments, hence, making the massively priced outsiders an enticing and exciting betting opportunity. These bonuses can also be applied to each way doubles, trebles and accumulators. Another bonus that firms are offering is extra places on level weight races also. This means that races of 15 runners are often paid on the 4th place instead of just the third.
This is especially beneficial when there is a hot short priced favourite as the extra place gives much more value to the bigger priced outsiders. Therefore, it definitely pays to back horses each way although one shouldn't back a horse each-way with a price less than 8/1 as a rule of thumb.
CASH OUT OR WAIT?
"Cash out" is a recently added facility that enables punters to stop their bet during an event and collect winnings before the event is decided. So for example, if you place a £5 double on Man Utd and Arsenal to win and Utd win their game, you may be given an option to take say £15 before the Arsenal game kicks off. Another example may be an accumulator bet whereby you have selected 4 horses and the first three have won. Again, you will be offered an amount to accept (possibly a figure between the amount of the three winners and the four winners) which you take out of your account.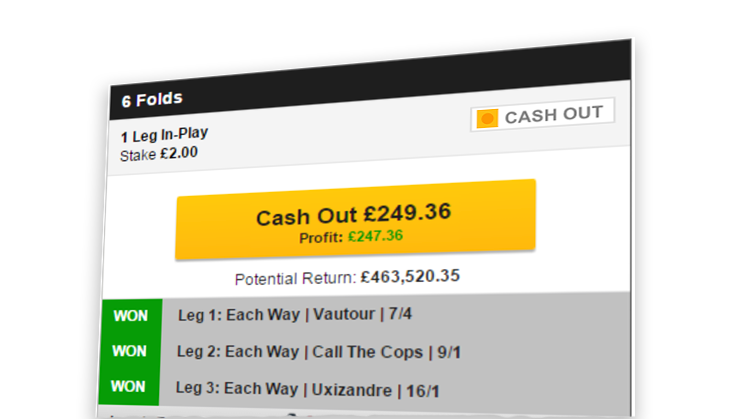 There are times to do this and times not to. If you have collected three winners and the last leg is a short priced favourite, it would make sense to complete the bet. On the other hand, if the last leg is a big priced outsider, this would clearly be a good opportunity to run off with the cash whilst you've got it. I personally am not a fan of the cash out option although I can see the attraction. I like the idea of seeing all my bets through but I guess I'm just old fashioned!
VIRTUAL RACING
Once the action is completed around 1700, there is usually a lull in proceedings. A good chance to eat and relax in front of the TV. However, one of the attractions of online betting is the near 24 hour availability of services which most firms offer. Whilst I'm not a fan of online casinos, I do enjoy the entertainment offered by virtual sports betting, especially horse racing. These are races generated by an algorithmic system which displays a computer generated simulation of a horse race.
There is no form guide to speak of. Each horse has a list of numbers next to it, which represents the horse's last five outings, very similar to a standard form card. This of course can be taken with a pinch of salt as there is no guarantee that these numbers are correct. However, it can be assumed that these figures have been incorporated into the algorithm to generate the result. It's very entertaining and mindlessly enjoyable as there is no form guide and it's very much down to choosing a horse based on the price.
Each way options are available. Most firms offer this facility but I would say that the Betfred one stands out as their system lets you know exactly where your horse is during the entirety of the race, something that none of the other firms offer at the time of writing. The only down side to virtual racing (apart from lack of form guides) is the runners tend to be 15 which restricts each way betting to 3 places. But as previously mentioned, it's a great way to spend the evening with a can of beer or two although as we always say, bet sensibly and when it's time to stop..stop.
Good luck with all future bets and enjoy gambling responsibly.
Place 5 x £10 or more bets to receive £20 in free bets. Repeat up to 5 times to receive maximum £100 bonus. Min odds 1/2 (1.5). Exchange bets excluded. T&Cs apply.
Click to Claim
Matt is Howtobet4free's resident Horse Racing expert, writer, tipster and a huge Cheltenham Festival fan. He occasionally dabbles in Golf, Football and anything else you can gamble on!