Betting on boxing comes in all shapes and size, from flyweight to heavyweight, from total rounds to method of victory, ante post betting to in-play betting, with many subtle nuances to placing a bet on boxing.
Boxing is one of the more controversial sports around, and whether you love or hate it, it's undeniable boxing is a highly charged drama filled pugilistic sport to wager on.
The exhilarating contest between Anthony Joshua and Wladimir Klitschko at Wembley has put boxing (particularly heavyweight boxing) back on the map. There hasn't been this much excitement in Boxing since the days of Mike Tyson, and with Anthony Joshua, Deontay Wilder, Tony Bellew, Tyson Fury, GGG, Errol Spence, Kell Brook and more in the mix, It looks like the next few years could feature some high class elite match ups with plenty of compelling betting opportunities for boxing punters.  

Howtobet4free offer our insights on having a flutter on the boxing. There's a wide variety of aspects to grapple with, including the type of boxing betting markets, boxing odds, when and where to bet on boxing and developing a strategy to bet on boxing.
Types of Boxing Betting Markets / Understanding Boxing Odds
There's a variety of different types of bets you can place on a boxing contest, and in this section we'll explain them in greater detail. The most popular boxing betting markets are Match Odds, (sometimes referred to as match betting or fight outright), Round Betting, Method of Victory, and Go the Distance.
With more interest in boxing betting over the last few years there is increasingly diverse betting options available, however as a general rule boxing will have relatively few betting markets than football and tennis for example.
Boxing Match Odds
The most straightforward and popular bet way to bet on a boxing contest is simply a bet on either of the two fighters to win the fight or a draw to occur. This bet type is known as boxing match odds, match betting or fight outright. Three outcomes are possible, with the draw generally larger odds given the increased likelihood of a win result for either fighter in most situations.

Example of Boxing Match Odds/Fight Outright:
Boxer A odds to win: 1/2
Boxer B odds to win: 9/4
Draw: 35/1
You will decide on the outcome you wish to bet on and place your stake. Say you bet £10 on Boxer A to win, you will potentially win £5 with a £15 return in total.
Round Betting
Round Betting is another popular way to bet on boxing. For this bet you will back your fighter to win the bout in a specific round. This allows you to be very specific on the exact outcome of the contest. You can potentially generate bigger profits with round betting bets as the odds will usually be more generous given the difficulty of predicting the exact outcome.
A bookie would present odds for each fighter to win in the various rounds. You will then be tasked of betting on your predicted outcome(s).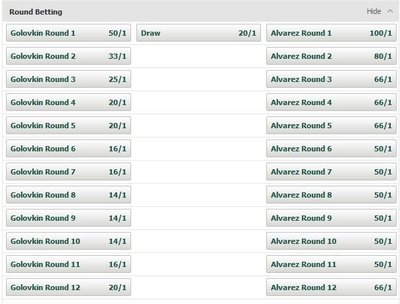 Example of Round Betting:
Anthony Joshua to win in Round 5: 5/1
If you win the above bet (say a £10 bet) on Anthony Joshua to win in Round 5 you will generate a return of £60 and profit of £50.
Total Rounds
The number of rounds in a professional boxing contest depends on the level of contest, whether novices (4-6 rounds), Intermediate level (8 rounds), or title and eliminator (10-12 rounds) bouts.  
A bet on total rounds is a bet on the number of rounds in a fight, and more specifically whether there will be over or under a certain number of rounds in a boxing match. In a World Title contest (12 rounds), the total rounds would generally be set around 9.5 rounds. There may be other round betting options, say 7.5 rounds, 8.5 rounds and so on depending on. The odds will reflect the two fighter's style and the anticipated evenness and durability of the two competitors.
If say there was an overwhelming favourite to win the bout then it's likely the odds for the contest to go beyond 9.5 rounds would be lower than for a more evenly priced contest. Therefore if say you consider the underdog will put up a fight till the later rounds the value bet might be to bet on over the pre-determined total number of rounds.

Example of Total Rounds:
The odds for total rounds over 9.5 rounds is 5/6 or under 9.5 rounds is 5/6, you will then have two options; either to bet on there being more than 9.5 rounds or less than 9.5 rounds. There can't be 9.5 rounds, so it's essentially a bet on the contest ending in the first nine rounds or the contest ending in rounds 10, 11, 12 or going all the way to the judges decision.
Betting £10 on over 9.5 rounds at 5/6 would generate a £8.33 profit, and £18.33 overall return.
Will the fight go the distance?
Will the fight go the distance is a straightforward boxing betting market to understand. It's simply a wager on whether the contest will go the full distance (till the end of the last round) or whether the bout will end before. The odds will reflect the length of contest, the fighter's style, and how closely the two fighters are matched up. Generally for heavy weight bouts with strong favourites the odds for the fight to go the distance will be relatively high.
Example of the fight to go the distance:
Odds for boxing match A to go the distance: 4/1
Odds for boxing match A to not go the distance: 1/5
Betting £10 on boxing match A to go the distance at 4/1 would generate a profit of £40, and £50 overall return.
Method of Victory
This boxing betting market allows you to bet on the method of victory in the contest. The following outcomes are available:
Boxer A to win by KO
Boxer A to win by TKO
Boxer A to win by points or decision
Boxer B to win by KO
Boxer B to win by TKO
Boxer B to win by points or decision
Or a draw
The odds will reflect the boxers specific records and ability. If a boxer is an overwhelming favourite with a strong record of early round KO's then it's likely the odds will be weighted towards an early round KO or TKO.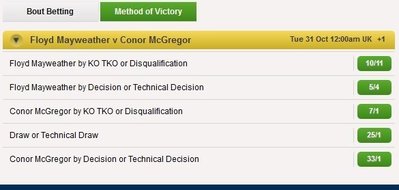 To be knocked down
This bet option refers to a bet on whether a particular boxer will be knocked down during the contest. There are of course particular rules, such as stipulating that the knock down can't be a slip or accidently knock down. It has to be a combative knock down.

The odds for a knock down will reflect the ability, style of fighter and how closely the two fighters are matched up. Some of the lower weight divisions fights might have less frequent knock downs and therefore the odds will generally be higher for respective fighters.
Similarly a very strong favourite who has rarely been taken the distance, will reflect in relatively low odds for his opponent to be knocked down.
To be knocked down and win
Similar to the knocked down bet as above, but the fighter knocked down has to go and win the contest. Clearly the likelihood of this is less as the boxer would have been in a potentially contest ending situation (having been knocked down) and so the odds will be comparatively high to take account of this.

Will both fighters be knocked down?
This bet refers to both fighters being knocked down. In order to win the bet both fighters have to be knocked down during the fight as happened in the April 2017 bout between Wladimir Klitschko and Anthony Joshua.
Betting on different weight classes and divisions
Boxing (Professional Boxing) have 17 different weight divisions. It's fairly common over a boxer's career to move up (and sometimes down) the weight divisions.
The 17 Professional Boxing weight divisions:
Minimum Weight: 105 lbs (48 kg)
Light Flyweight: 108 lbs (49 kg)
Flyweight: 112 lbs (51 kg)
Super Flyweight: 115 lbs (52 kg)
Bantamweight: 118 lbs (53.5 kg)
Super Bantamweight: 122 lbs (55 kg)
Featherweight: 126 lbs (57 kg)
Super Featherweight: 130 lbs (59 kg)
Lightweight: 135 lbs (61 kg)
Super Lightweight: 140 lbs (63.5 kg)
Welterweight: 147 lbs (67 kg)
Super Welterweight: 154 lbs (70 kg)
Middleweight: 160 lbs (72.5 kg)
Super Middleweight: 168 lbs (76 kg)
Light Heavyweight: 175 lbs (79 kg)
Cruiserweight: 200 lbs (91 kg)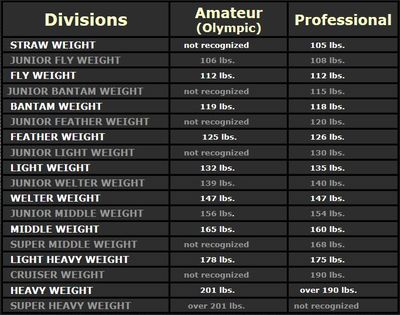 Be careful to study the boxers history in terms of weight divisions. Has the boxer recently moved up/down a weight division? Generally the heavier man will likely be the stronger, but as the contest goes on to the latter rounds a more agile and nimble opponent may be able to allow such an opponent to punch himself out.
Boxing betting strategy – Advice, hints, golden rules, and tips
As boxing betting allows such specific bets, it gives you the chance to bet on the exact outcome of the contest. One benefit of this is that if you have good knowledge of the two fighters, boxing style, and the likely way in which a fighter will win, rather than just picking the right outcome, you can win more by betting on the method of victory, round betting, etc which will generally offer higher odds.
Go for Value over who you think will win
Like with a lot of betting, simply betting on what you think will happen will not necessary always lead to long term betting profitability. The simple argument, being that if you are backing a 1/5 shot at 1/10 over the longer term you are likely to have lost money. In boxing like in many sports, there is a tendency for some fighters to be priced too short because of crowd or national bias. Because of the nature of boxing, with promoters wanting to wrap fighters in cotton wool with virtual gimme fights to build up to higher profile fights, there can be occasions where the odds really are too short to offer value to bet on.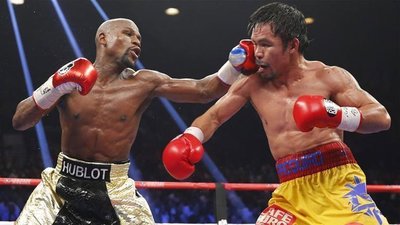 This means it's important to consider the percentage chance of the various outcomes of a boxing contest. This takes discipline over the longer term as it's tempting to simply back what you will believe the outcome will be. By betting on the best value available you're more likely to generate a profitable strategy betting on boxing.
Recent fight form and track record
While recent form and the track record is a useful information when deciding what may happen in the future, given there are so many different factors which may influence a boxing match, it's important to look beyond the form sheet. For example a boxer may have a very strong recent record and even be unbeaten, however what kind of opposition was the boxer up against? Was there a controversial judging decision? What style of opposition fighter was the boxer facing? All of these factors help put that form in context.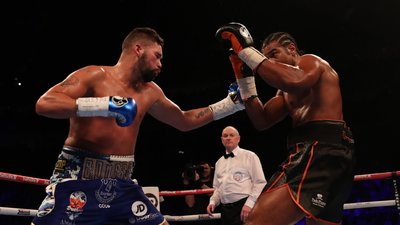 One fighter coming in with an unbeaten record full of KO's against another fighter with recent losses doesn't always add up to an obvious win for the unbeaten fighter. Look beyond the recent form as it's arguably less important than in other sports where there is less time between match events.
Beware of the hype, arrogance, show boating and home favourites
The media and public tend to concentrate on the spectacular fighters and those making noise outside of the ring. The odds in some respect can represent a popularity contest, with many bettors preferring those fighters who are likely to produce more exciting bouts. There can be a betting bias on the more flamboyant and crowd pleasing boxers, underplaying the quieter and more tactical boxers. Of course there are exceptions, but generally it's important not to be blown away by the pre-fight hype on twitter, the arrogance or the aggressive boxing style.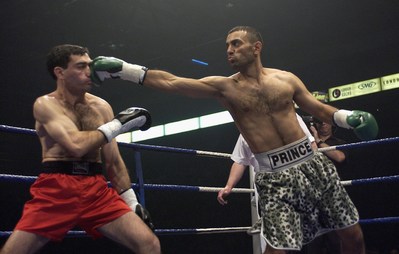 Betting bias in boxing can also relate to the origin of the fighter, with the British fighters being backed heavily by the British boxing public. This is natural in virtually every sport, but it's often much more pronounced in boxing. Ask yourself is that 1/2 shot really a 1/2 shot or have the odds been over influenced by a partisan betting crowd?
Stick to the performances, the opposition that was faced, and the information that hasn't been spun out of context.
When to Bet on Boxing?
An interesting question as to when should you be placing your boxing bets? If a boxing contest is months away there is limited advantage from taking an early bet on. While it makes sense to back a football team to win a league or cup competition in good time to benefit from better odds after the competition starts, with boxing it makes sense to place the bets very close to the event date. By placing your boxing bets either a few days before the fight or on the day of the fight it allows you sufficient time to gauge how the training camp has gone, the weigh in, and general preparation of the two fighters.
It's unlikely you will benefits from far superior odds placing boxing bets months before the bout, so we suggest you place your boxing bets in the days and hours before the event.
Where to Bet on Boxing?
Like most betting, ensuring that you obtain best value odds and have access to a comprehensive list of betting markets is paramount to getting the most of your boxing bets. Some bookmakers will offer superior odds on some bouts than others, some will offer certain boxing betting markets that other bookmakers don't offer, and some might offer better boxing related betting offers. This is why it's important that you are registered with a number of different bookmakers so you can take advantage of the best value odds, latest betting offers and betting markets available when placing your boxing bets.
Use our list of trusted and recommended online bookmakers to check which bookies you can add to your collection!
Both Paddy Power and Betfair Sportsbook offer an extensive range of boxing betting markets and we would suggest you visit those sites if you are thinking of placing a bet on any of the upcoming bouts below.
Upcoming fights:
27th August 2017 04:00 Floyd Mayweather Jr vs Connor McGregor
17th September 2017 04:00 Gennady Golovkin vs Saul Alvarez
Other Boxing fights in the pipeline:
Anthony Joshua v Deontay Wilder
Anthony Joshua v Joseph Parker
Anthony Joshua v Tyson Fury
David Haye v David Price
Deontay Wilder v Tony Bellew
Dilian Whyte v Dereck Chisora
Floyd Mayweather Jr v Conor McGregor
Kell Brook v Amir Khan
Luis Ortiz v Shannon Briggs
Manny Pacquiao v Amir Khan
Tony Bellew v David Haye
Armed with this information hopefully you can deliver some knock out blows to those bookmakers!
Francois is one of Howtobet4free's co-founders and has written many of Howtobet4free's popular Betting Guides. Francois also helps run the @howtobet4free_ Twitter account