In front of a British record equalling crowd of 90,000, Anthony Joshua and Wladimir Klitschko will slug it out for the WBA (Super) and IBF heavyweight championships of the world.
Klitschko came unstuck against Tyson Fury and knows defeat to Joshua will mean the end of his career. At 41, time is not on his side.
The build-up to this bout has been in marked contrast to the snarling mess which dropped onto the Haye versus Bellew fight earlier this year. Tyson Fury tried to inject poison into the atmosphere but made himself look foolish with his interjections.
Klitschko, by far the more experienced of the two fighters, was unimpressed by Fury's rantings, "I am more focused on myself and my ego; I don't care about Joshua and Fury or whatever dog fight he got into."  
Instead, he has reciprocated Joshua's approach to the fight. "It's a great message…The attitude and the respect for each other is being passed down to all the other young men down there in the gyms. Mutual respect. That is what we showed and I'm proud of it."
While Fury's lunacy in the build-up irked, he has still not forgotten David Haye's t-shirt with pictures of himself and brother Vitali, decapitated. Boxing in this instance is the winner.
ANTHONY JOSHUA
The 2012 London Olympic gold medallist is no stranger to home ground advantage. His achievements five years ago were tarnished with claims of dubious scoring by the judges in two of his fights, including the final where he beat Italian, Roberto Cammarrelle, on a countback.
Joshua is unfazed by these rumours. They are irrelevant to him now as he seeks to protect his 18-bout unbeaten record. All of those wins have come by knockout with Dillian Whyte and Dominic Breazeale taking him the furthest distances, to Round Seven in 2015 and 2016 respectively.
It's a record to be admired but one which raises questions about his stamina. Klitschko is a step up in the quality of his opposition as well, two points which when considered together could put Joshua on the back foot in many people's minds.
Not that you'll find many among the 90,000 at Wembley on Saturday. It will be the biggest crowd at a British boxing bout since the 1930s and reminiscent of the days when Frank Bruno fought Mike Tyson. This is a bout which sells itself.
With a two centimetre reach advantage, there's no necessity for Joshua to come inside all the time, allowing him to make effective use of his jab. With Klitschko an old hand at moving opponents around the ring, it's will be vital for Joshua to assert himself as they spar in the opening rounds.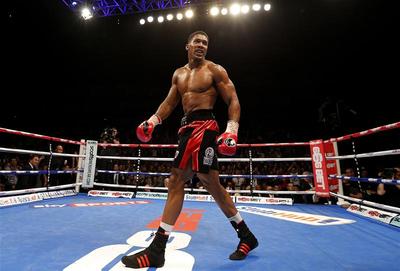 For Joshua, this fight is about delivering the promise which many believe in. Klitschko has put him in with the names, the boxers whose reputations are forged in the title fights of the past. Eddie Hearn, his promoter, sees this fight as a stepping stone to the 'big time'. There is, he said, no going back.
Which begs the question of whether Joshua can impose himself on his opponent? His record points to the power of his punch but much too many journeymen can be flattering. Is Joshua deceiving by stepping up to this level now?
The obvious advantage is his speed around the ring. Compared to the more traditional Eastern European style of Klitschko, it's a breath of fresh air. Joshua mustn't be drawn into a jabbing contest which doesn't move out of the centre of the ring. The Ukrainian's a powerful puncher and can induce fatigue if Joshua stands toe-to-toe with his opponent.
The desire to win to better himself spurs Joshua on; so does his desire to win by knockout. He recently joked that it was because he didn't know how score a boxing match. This is part of Joshua's charm. The lack of attention seeking, of ego, makes him an 'easy sell' to a boxing public used to vulgar brashness. A 'man of the people' image sits well with the Watford-born fighter but the question is whether there is substance behind the hype. 
  "Yeah, people love it."
  "That's what they want to see. They want to see me get battered for 11 rounds and come back."
   "They want to see how far you will dig to get to your goal."
Don't believe the hype? You might have to after this bout.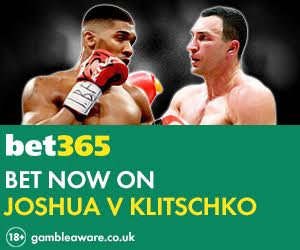 WLADIMIR KLITSCHKO
The Ukrainian's age is the big question mark hanging over this bout. His loss to Fury almost eighteen months ago was his first in eleven years, but the repeated postponements of the rematch haven't helped Klitschko's cause. 39 then, he has moved into his forties and history has rarely been kind to fighters of that age.
Will his prolonged absence from the ring hinder his hopes? It certainly can't help and having struggled with his stamina against Fury, there's a concern that Joshua who is fourteen years his junior, could be too fast for Klitschko.
One thing he won't be accused of is lacking heart or courage. Speaking ahead of the fight, the former champion insisted that he will be ready for the younger Briton:
   "In a fight, people could be in great preparation and great spirit and I've seen that they crumble like a cookie right before the first bell. It all depends on the person.
   "It is a foundation that is important. How you prepare, how you deal with it, but anything can happen in the fight, like injuries or whatever, and you have to deal with it and suck it up to keep going to reach your goal"
Experience will give him an asset which Joshua cannot match. He had the same advantage over Fury and was caught up by the then-challenger's tactics. His opponent on 29th April has a slight reach advantage and may use the same tactic of moving Klitschko around the ring. It's this aspect where his experience must show, and cut down the opportunities for Joshua to dictate the tactics of the fight.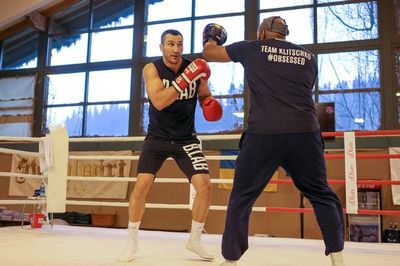 This is his 69th bout, and a record of 64 wins and 4 losses is impressive. The four defeats have all come in title fights, with three of them costing him belts he held at the time. Fury was the first to beat him on points, the others all came by means of TKO. His last ten fights – beginning with his win over Haye – has seen five go the distance.
Joshua by contrast has not gone beyond seven rounds; experience, as Klitschko said, can't be bought in a shop. This may prove a decisive factor and it's something that he is aware of. Could his tactic be one of attrition? A man with 53 knockouts to his name is hardly noted for patience yet that will be a key attribute for the Ukrainian to bring to the ring.
TALE OF THE TAPE
Anthony Joshua
Height:        6 ft. 6" (198cm)
Reach:        82 ins (208cm)
Wladimir Klitschko
Height:        6 ft. 6" (198 cm)
Reach:        81 inches (206 cm)s
STATS
Joshua has a record of 18 wins, all by KO's.
Klitschko's record is 64 wins, with 53 KO's, and 4 losses.
Klitschko hasn't won a fight inside four rounds in his eight bouts since March 2012 (W7, L1).
Joshua has only boxed beyond the third round on two occasions, winning both in Round Seven.
Three of Klitschko's four losses have come by TKO.
FORM GUIDE (LAST SIX BOUTS)
Anthony Joshua - WWWWWW
Wladimir Klitschko - WWWWWL
CURRENT MATCH ODDS (BEST PRICED ODDS)
Anthony Joshua: 4/9 with Ladbrokes – Visit Ladbrokes!
Draw: 40/1 with Betfair Sportsbook – Visit Betfair Sportbook!
Wladimir Klitschko: 9/4 with bet365 – Visit bet365!
SUMMING UP!
You can make a compelling case of either boxer to win, such are their strengths and weaknesses. Klitschko, the experience, gnarled warrior, against the youthful exuberance of the cub, Anthony Joshua. The saying warns us that 'a good old head always beats a good young 'un'; we'll find out if that's true this weekend.
The test will be how well Joshua handles a punch. He has yet to be put down during his professional career but is that due to his inner strength or careful career management. Everything has been mapped out for him, a path to the top in a way that Joshua likened to Mike Tyson's. He isn't at the former World Champion's level but the parallels are easy to make.
In the end, age will be the decisive factor. If Joshua avoids standing still and becoming embroiled in a stand-up jabbing contest, he can move Klitschko out of his comfort zone and wear the more experienced man down. However, that experience could cut down the size of the ring for the younger Briton. Joshua will need to be alert to that opportunity when it arises.
And I think he will be. As admirable as Klitschko's career has been, the defeat to Fury was a hint that his career is coming to an end. Joshua should hasten that realisation in 8 or 9 rounds.
MY RECOMMENDED BETS
For more details about the current free bet offers for the big fight check out Anthony Joshua vs Wladimir Klitschko Best Free Bet Offers!
Stuart is a freelance writer and well-known Arsenal blogger, writing A Cultured Left Foot since 2006. As well as football, he regularly writes about cricket, tennis, rugby, baseball and American football.