Cardiff hosts the latest and 20th instalment of Anthony Joshua's boxing career with Carlos Takam the sacrificial lamb. AJ is doing his best to sell the bout but there's little to suggest he will have a problem dealing with the Franco-Cameroonian fighter.
With 39 bouts under his belt, Takam has the experience but Wladimir Klitschko ticked that box as well. Whatever advantage experience is deemed to have, AJ's youth and agility more than compensates.
Takam has only been stopped once in his career, by Alexander Povetkin in the 10th round of their 2014 bout. It cost him his WBC Silver Heavyweight title and he hasn't come close to topping the tree since.
AJ is the overwhelming favourite for this bout, but Mike Tyson probably felt as confident when he faced Buster Douglas all those years ago.
Anthony Joshua
Kubrat Pulev's injury upset Joshua's training programme, with Takam shorter and stockier. As always, the British fighter has done his best to be respectful of his opponent, comparing his physique to a "bag of cement".
However, AJ's eyes are on the prize of next year's unification bouts against Joseph Parker (WBO champion) and Deontay Wilder (WBC champion) with the final of three big fights against Tyson Fury, provided the former champion is in shape and back in the fight game.
One of boxing unwritten rules is never plan ahead; the next bout is always the most important and there is a danger in Joshua talking of unification bouts and Fury. Is it a sign that Takam is being treated as a patsy?
Most pundits think so; Joshua is an overwhelming favourite and Eddie Hearn spoke enthusiastically about next year's plans. The first fight in the spring, followed by bouts in the summer and late autumn; it's all coming together for the former ne'er-do-well from Watford.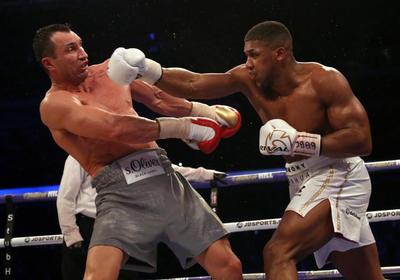 Takam must be dealt with first. A more aggressive fighter, his front-foot approach in the latter part of the fight plays into AJ's hands, or jabs more accurately.
For most, the change in opponent, with a wildly different style and build might be upsetting. However, AJ and his trainer Rob McCracken are scientific in their approach and while it's been inconvenient, the transition has been managed smoothly.
For many, Takam's position as challenger underlines the poverty of talented fighters within the heavyweight division at present. He's unlikely to cause AJ the same problems as Klitschko; however, Joshua must guard against the openness he displayed against the ageing former champion.
Takam isn't a renowned puncher but has the build to cause problems, especially if a chin walks into the centre of the ring. 27 KO's isn't a record to be sniffed at, even if most of the victims have been journeymen at best.
Joshua identified where Takam is dangerous:
"To have a style like Takam's, not a lot of people have long careers. He just eats up a little bit of ground each round. He could throw a jab, right hand to the head, left hook, right hook and be looking good and, all of a sudden, everything he's doing wasn't working because the person you're fighting is still coming."
The champion thinks it will be round six or seven before his opponent opens up, the time when most think AJ will begin to overpower Takam. He has faced bigger hitters, taller but few stockier. This difference in type will be an interesting test for Joshua although while he protests that Takam is a better fighter than Pulev, few believe – or agree with – him.
Professionalism and meticulous preparation inside and outside the ring are the hallmarks of Joshua's career to date. Every step feels like it is planned and so far, not a foot has gone wrong or even misplaced. So long as that continues, the hands around his belts will once again be British at the end of the bout.
Bet & claim your Betfair Sportsbook 16/1 on AJ to beat Carlos Takem - Visit Betfair Sportsbook!
Bet & claim your Betfair Sportsbook 16/1 on AJ to beat Carlos Takem - Visit Betfair Sportsbook!
Carlos Takam
At 36, this may be Carlos Takam's last shot at glory. Ranked 3 by the IBF, defeat is likely to bring the toughest decision about hanging up his gloves. It will be a major surprise if he isn't contemplating what to do next on Sunday morning.
Eddie Hearn had Takam on standby in case Pulev pulled out of the Joshua fight so there's no hint that the Cameroon fighter won't be prepared. However, his record in the two biggest fights of his career isn't impressive.
Povetkin's knockout in the 10th round of their bout summed up how the fight was going; it was always going to end badly for Takam. When it was his turn to step into the ring with Joseph Parker, he was once again found wanting and easily outpointed. It was a rough and tumble fight against arguably the division's least convincing champion.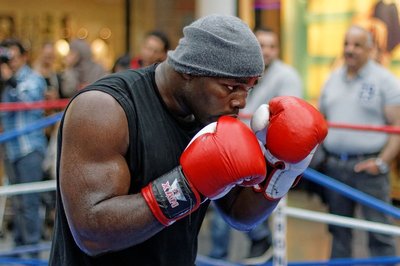 There's little hint that this is going to be a tough opponent for the Briton.
However, Takam isn't here to make up the numbers. Reports from his training camp suggest that he is looking sharper than normal, but it is a lot different in the ring than in the practice arena.
Joshua may declare Takam as more of a threat than Pulev, but he must sell not only seats but Pay Per View tickets as well.     
Takam claimed he is "not bothered by fighting in front of 80,000 people;" the partisan Cardiff crowd won't bother him in the ring as he blocks them out. With hands covering his head as Joshua hands out the punishment, he may find that easier than normal. It certainly will be "doing things differently from what other boxers have done against Joshua."
He credited Joshua as the best of the current heavyweight world champions but plans to work on the Watford fighter's "body, as well as the head". While Joshua has the advantages of height and reach, Takam believes his speed will cause problems and if that happens, is thinking of winning by knockout.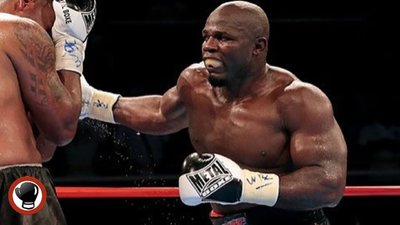 Bullish words but more bravado than based in reality? His record certainly stands up that thought. 35 wins, 1 draw and 3 defeats isn't the stuff of champions and with 2 defeats and the draw in his last ten bouts, Joshua won't be quaking in his boots at the prospect of the fight.
Parker and Povetkin are the only two notable names on his pro fight record with the rest filled with straightforward wins over undemanding opponents. Americans Michael Grant and Tony Thompson, South African Franz Botha, Thompson and Briton, Michael Sprott were all aged 40 or over when Takam beat them.
Sprott lasted five rounds in France, having been sent to the canvas by Joshua after 86 seconds; the gap in the power of the two fighters has rarely been more noticeable.
It says much about the heavyweight division at present that there is no-one better worthy of a chance at the title.
FORM (Last ten bouts)
| | |
| --- | --- |
| Anthony Joshua: | WWWWWWWWWW |
| Carlos Takam: | WDWLWWWLWW |
STATS
| | | |
| --- | --- | --- |
|   |  Joshua |  Takam |
| Height | 6' 6" | 6' 1½" |
| Reach | 82" | 80½" |
| Record | 19-0-0 | 35-3-1 |
CURRENT MATCH ODDS (BEST PRICED ODDS)
SUMMING UP!
Joshua summed up this fight best:
"All in all, what goes down in the history books is whether I win or lose. I've just got to do whatever I've got to do to get this win. It's really important for me and the sport of boxing, because it sets up several fights in the future."
Unifying the heavyweight division is the aim but first he must deal with Carlos Takam. It will be one of the stunning upsets in modern boxing history; the odds-on Anthony Joshua winning are as short as 1/66 in some cases.
It's difficult to make a case for Takam winning and the only way it's possible is if Joshua is complacent or naïve; or both.
MY RECOMMENDED BETS
For more details about the current free bet offers and promotions for the Cardiff fight check out Anthony Joshua vs Carlos Takem Best Free Bet Offers!
Stuart is a freelance writer and well-known Arsenal blogger, writing A Cultured Left Foot since 2006. As well as football, he regularly writes about cricket, tennis, rugby, baseball and American football.