Attending The Cheltenham Festival can be quite a daunting and intimidating experience. Whether it's the immense crowds, not being able to find your way around or being in a quandary for what to eat and drink, The Festival is a potentially confusing and stressful day out.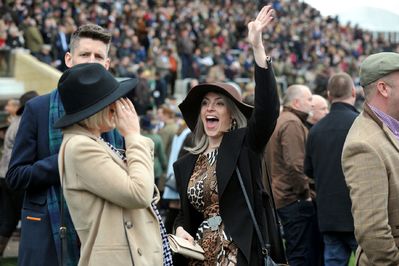 However, with a little bit of useful information, advice and preparation, a day at The Festival can be an incredibly memorable occasion! Everything you need to know is here! Looking for a bite to eat for lunch but don't want to blow the budget? We have a list of hot snack stalls including pizza, pasties and hog roast!

Bringing young children? We have details of Cheltenham Racecourse's very own child nursery facility! Not sure how to bet at Cheltenham? We have a fully comprehensive guide on how to bet at Cheltenham on course and online!  So let's get started with the Beginners Guide To The Cheltenham Festival!
How To Get There!
Cheltenham Racecourse is situated at the north of the town on the A435, on the edge of The Cotswolds at the foot of Cleeve Hill.
The address is: Evesham Rd, Cheltenham, Gloucestershire, GL50 4SH

Contact details: 01242 513 014 or email cheltenham.reception@thejockeyclub.co.uk
Trains
Trains run regularly from Bristol Temple Meads and Birmingham New Street. However, due to the sheer numbers travelling from Birmingham New Street to Cheltenham Spa on Festival race days, a passenger safety plan is always put in place at New Street station to ensure platforms are not dangerously overloaded with passengers.

Therefore, a queuing system is carried out whereby passengers are ordered to wait by police and security staff on the station concourse, until the platform is clear.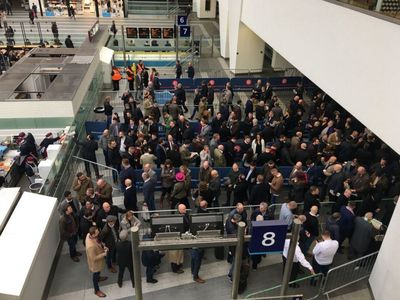 Please ensure you leave early from Birmingham if you wish to avoid the queues, which usually start building around 0900am. Waiting time for a train is usually 45 mins to 1 hour.

The train companies are well aware of the popularity of The Cheltenham Festival so not surprisingly, cheaper advance tickets are not available between Birmingham New Street and Cheltenham Spa on Festival race days.

Direct trains from London run every half hour from Paddington, although alternative trains running are also available with a change at Bristol Parkway.

Once you arrive at Cheltenham Spa, there are several options for getting to Cheltenham Racecourse.
Getting From Cheltenham Spa Station To The Racecourse
Due to the volumes of traffic, it's often more pleasant (and quicker!!) to walk the 2 miles (around 40 minutes) to the racecourse! However, if you've got heels on or don't fancy the walk, here are the options:
Race day Bus Service
Stagecoach and Cheltenham Racecourse have worked together to provide a shuttle bus service which runs regularly from Cheltenham Spa train station. A queuing system is always in operation but it moves quickly.

A similar service is also available from Cheltenham Town Centre. Race day buses leave the racecourse from the South Car Park.
Taxis
Unless you have a taxi pre-booked, forget it! This also applies at the end of the day's racing.
Arriving by car and parking details
Arriving by car at the racecourse is possible but not recommended due to the sheer traffic volumes and steep parking prices. If you have to arrive by car, ensure you purchase parking in advance as the cost is £15 in advance or £25 on the day. Full details of parking locations can be seen here.

The racecourse also has two electric car charging points: more details here.

Parking spaces are also available on private drives using the Just Park website.

Pick up and drop off is also available on The West Car Park with a 5 minute walk to the racecourse, more details here.


Where To Enter The Racecourse
Ticket holders with Tattersalls and Club Badges can all enter at The Centaur entrance pictured below. There is no divide between those who have printed tickets and tickets on phone. Tickets on the day (if available, although Gold Cup Day always sells out) can also be purchased here.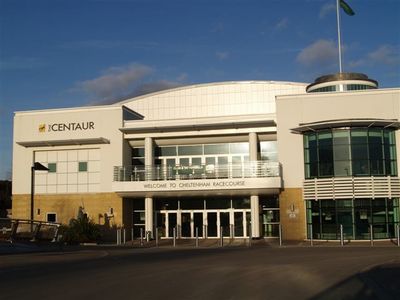 You're in!! Now what?
Hot Food Stalls
If you don't fancy formal eating, there are plenty of hot food stalls. This is what is available at the time of writing.
The West Cornwall Pasty Company: Situated immediately to the right as you walk into the entrance. Next to the main stand.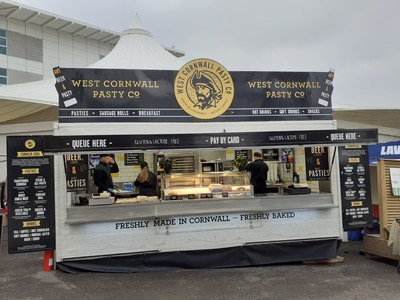 Pizzeria: Situated above the parade ring and winners enclosure. Freshly made and also has tea and coffee.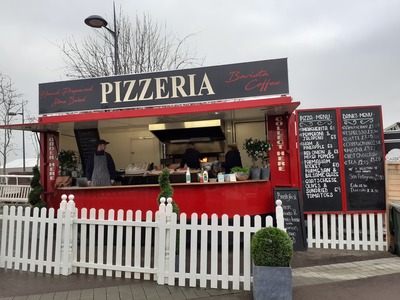 I Love Bacon: For pork lovers, a van specialising in bacon and locally made and Irish sausages.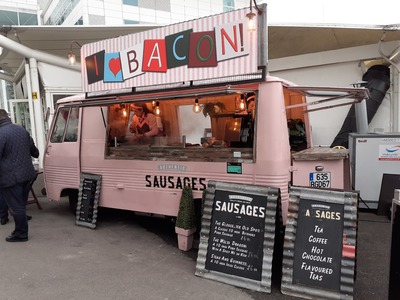 Lavazza: Specialist coffee van, situated next to the West Cornwall Pasty Company.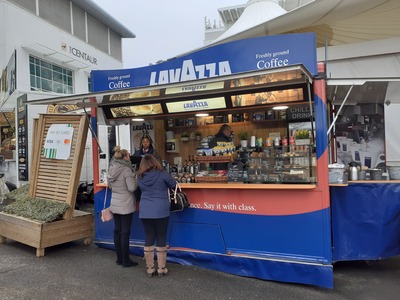 The Cheltenham Roast: Local produce stand specialising in sausage and bacon baps and baguettes.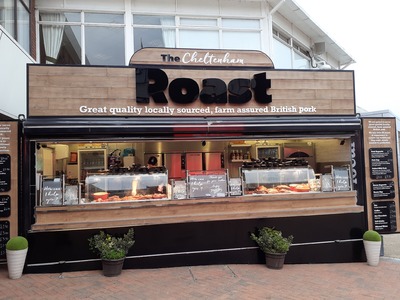 Bars & Restaurants
Cheltenham Racecourse has an abundance of bars and restaurants to suit most pockets. We've selected a few to recommend.
A pint of Guinness or beer is around £6 a pint. 
Queues for beers are legendary and not helped by multiple orders at the bar (sometimes for 10 people plus!!) but some bars are less busier than others.

If you want to avoid the queues, get the beers in during the race and further away from the viewing areas.
The Winged Ox


This is the place to head if you want to try out real ale of which they have a full range of draught ales. Everywhere else is pretty much Lager and Guinness. The Winged Ox also has the The Pie Shop offering a range of British made pies, freshly made sandwiches and other snacks.
The Glenfarclas Hot Toddy Bar


This delightful little stand is a regular feature at The Festival and is a lifesaver on a chilly windy day! A range of hot toddies available at around £5-6 a shot.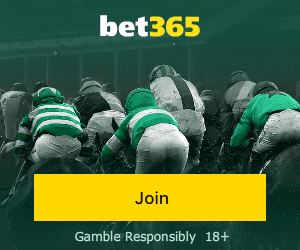 The See You Then Bar


This is a lively bar with excellent terraced seating and tables just above the parade ring next to The Cheltenham Roast. Usual full range of draught beers, spirits, bottled beers and cider.
The Persian War Bar


Very handy bar next to the William Hill bookmakers on the second floor of the main stand. Noticeably less busy than the other bars.
The Guinness Village
Legendary section of the Festival, situated at the bottom end of the racecourse, just after the parade ring. Visiting this area is a must if you want to sample the full craic of the Irish Cheltenham experience. Plenty of bands are playing and lots of other entertainment on offer.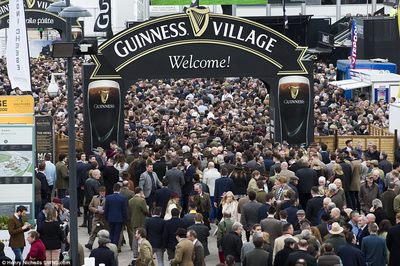 Fantastic place to meet and greet strangers (you won't have much choice!) due to the huge volumes of people walking through. Avoid nearer to race time as you will never get out in time to watch a race!
Other Useful Facilities
Disabled customers


Toilets for the disabled are situated as you walk into the Centaur entrance on the left and there is designated viewing for disabled customers at the main grandstand.
Race cards and The Racing Post
Both are available just as you enter. Be wary there is an official race card provided by Cheltenham Racecourse and also a Timeform race card.
Cash Machines
There are a number of options which all include a £2.50 charge for withdrawals.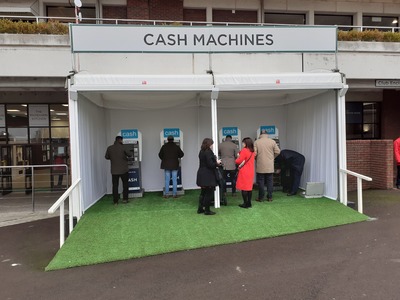 There are several on the main concourse just above the parade ring, next to The Mandarin Kitchen.
Mobile phones, charging and WIFI
Cheltenham Racecourse uses The Jockey Club Wi-Fi facility and as free Wi-Fi goes, it's considerably good. Works better nearer you are to the main stands and parade ring.

Mobile phone charging is also available with Lifesaver who have a stand on the second tier opposite the parade ring, adjacent to the See You Then Bar. Charges are £20 for charging of which £10 is a returnable deposit.
Chemist


There is a pharmacy on site with a variety of over the counter medications although no prescriptions available. It is located above the parade ring opposite the Pizzeria stand.
Recycling
Recycling is actively encouraged at Cheltenham Racecourse, especially in view of the multitude of plastic beer glasses used during The Festival. Please ensure these are placed in the appropriate bins.
Tobacco


Smoking is allowed in most areas outside of the main buildings. There is also a tobacco kiosk in the main thoroughfare at the back of the main stands.
For the Under 5's
Child's Play is located in The Centaur area and facilities. This is NOT a crèche as under 5's must be accompanied with their parents and guardians at all times. This is strictly for under 5's only.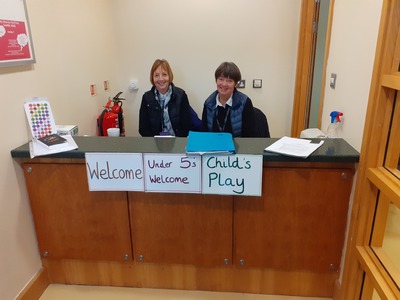 Bottle warmers are available. Baby changing facilities are available in the foyer section of The Centaur. Take away food and drinks cannot be brought into Child's Play. There are also electric sockets located in there.
Information Kiosk
The Information Kiosk is located along the main thoroughfare behind the main stands.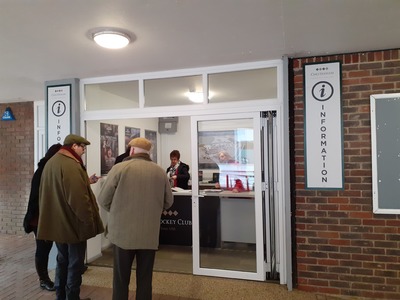 They offer race day programs and general information of the Cheltenham Festival meeting.
Places of Interest
Cheltenham Racecourse has a number of plaques and statues commemorating the rich history of The Cheltenham Festival.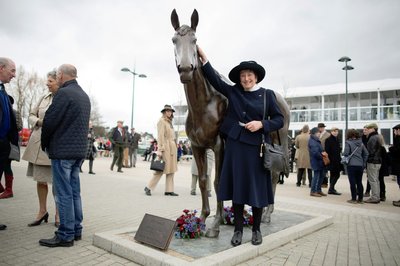 Statues include Best Mate (winner of The Cheltenham Gold Cup 2002, 2003, 2004) and Champion Jockey, AP McCoy.
How To Bet At The Cheltenham Festival
So now that you've found somewhere to eat and drink and know your way a little around the course it's time to negotiate the complexities of placing a bet at The Cheltenham Festival!

We have a number of pages dedicated to giving help and advice on the different types of bets and how to bet effectively at The Cheltenham Festival along with race schedules for each day.
Betting With The On Course Bookmakers
This is the traditional way of betting at any race course and this involves the most interaction and concentration. This is a must for the betting enthusiast and is a big part of the day's entertainment. It's also enormous fun betting with the on course bookmakers!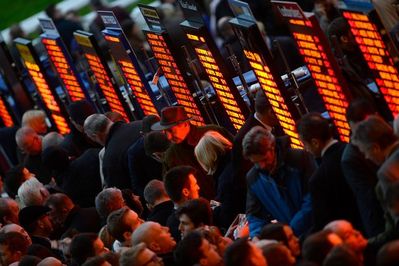 The main concentration of on course firms are situated on the viewing concourse opposite the main stand in front of the winning post
They are usually run by two people: one taking the bets and giving out the betting slips whilst the other inputs the betting data into a computerised system.

All you have to do is simply approach the person taking the bets and tell them your choice (by horse name or number) and how much you want to stake. For example, "£5 win on Native River please."

Don't lose your slip as it is the only proof you have of your bet if it's a winner!.

Their minimum bet is nearly always £5. You can bet win and each way. Pounds and Euros accepted. More details on the different types of bet are available here. 

If you have picked a winner, all you have to do is wait for the racecourse announcer to say the words "weighed in" and you can collect your winnings, although most firms will pay out straight away if there is a clear cut winner.

You will have to wait longer if there is a stewards enquiry (incident occurring during the race) or a photo finish.

Getting the best price is also a major part of the fun as many of the firms offer varying prices based on the punts they have laid. Be patient and shop around. Don't just settle for the first bookmaker you come across!
Betting By Totepool
Betting by Totepool is an alternative way of betting for those who don't fancy the hustle and bustle of the on course bookmakers and those on a budget as the minimum bet is only £2.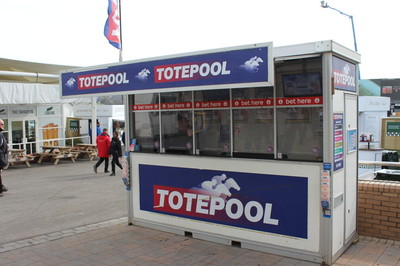 Simply tell the cashier the number of your horse and how much you wish to bet and your bet slip will be produced with the horse's name and number on it. The pricing works differently as Tote betting is administered through a pool system.

More often, better value is obtained through the on course firms or other firms operating at The Festival.
William Hill Bookmakers


William Hill have a large betting shop located within the main stand next to The Persian War Bar and offer everything you'd expect from a high street bookmakers including win, each way betting and the various accumulator bets. Betting at other meetings also available here.
Online Betting
If you have brought your mobile phone then betting online is by far the best and most value worthy form of betting. None of the on course firms offer anything like the deals on offer with the online options, such as extra each way places, free bets, special doubles and money back deals on fallers and second placed horses.

Check out some of the fantastic new customer offers for Cheltenham Festival!
MORE CHELTENHAM FESTIVAL!
Place 5 x £10 or more bets to receive £20 in free bets. Repeat up to 5 times to receive maximum £100 bonus. Min odds 1/2 (1.5). Exchange bets excluded. T&Cs apply.T
Click to Claim
Matt is Howtobet4free's resident Horse Racing expert, writer, tipster and a huge Cheltenham Festival fan. He occasionally dabbles in Golf, Football and anything else you can gamble on!