On Saturday June 14th, England start off their World Cup 2014 campaign against Italy. The Italians are favourites for this tie, best priced at 9/5 with Betfair, with the draw available at 2/1 with Ladbrokes and England best priced at 11/5 with Coral.
The Line ups
These line ups are somewhat difficult to predict. With Italy, it's hard to see what formation Prandelli will use, as he has flirted with both the 3-5-2 and 4-3-3 in recent games. Italy's weakness at full back could be an issue with a four man defence and would cause Bonucci to be dropped, but a three man defence is difficult to balance when teams are increasingly playing with a lone striker. However, the line up doesn't change how Italy will play. Their midfield three will try to dominate possession and the key to England's success will be stifling Pirlo's domination.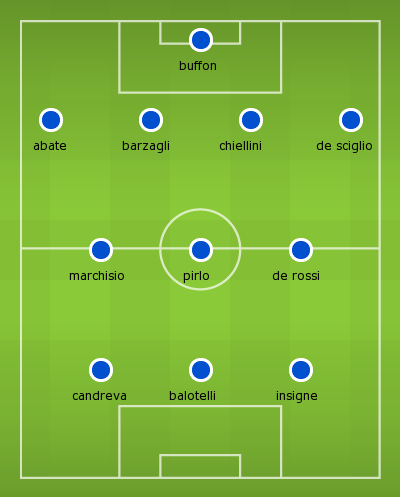 England, on the other hand, really only have decisions to make on the wings. Their back five seem to be relatively stable and Henderson is likely to be used to partner Gerrard because of their club connection and Henderson's defensive reliability when compared to Jack Wilshere.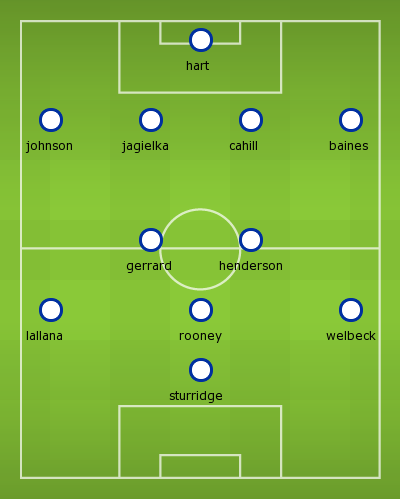 Get 11/10 for Leighton Baines to start against Italy with Coral.
Danny Welbeck has started four out of five of England's last qualification games and two out of the three friendlies, so the nation may despair when they find him in the starting line up against Italy. On the other flank, we think Southampton star Adam Lallana will start. His build up play and focus on play in front of the back four will provide a balance with Welbeck and Sturridge (and all other England wide players apart from Milner) and perhaps give England the ability to at least compete with the Italian midfield trio in possession.
Get money back if Italy beat England at Paddy Power.
Why Welbeck should start
Stop laughing and let me speak. If we cast our minds back to Euro 2012, when England went out on penalties, but during the game Italy were utterly dominant over England, doing all be score. This was because Pirlo was allowed to dominate from the base of the midfield when Wayne Rooney failed to track the Italian when they had possession. He doesn't have the tactical nuance to track Pirlo, and despite his talent has been caught out of position a number of times for club and country when deployed behind the striker. Below is a map of Pirlo's game against England in 2012. His high success rate, high percentage of forward balls and higher than usual position on the pitch show his personal dominance on the game.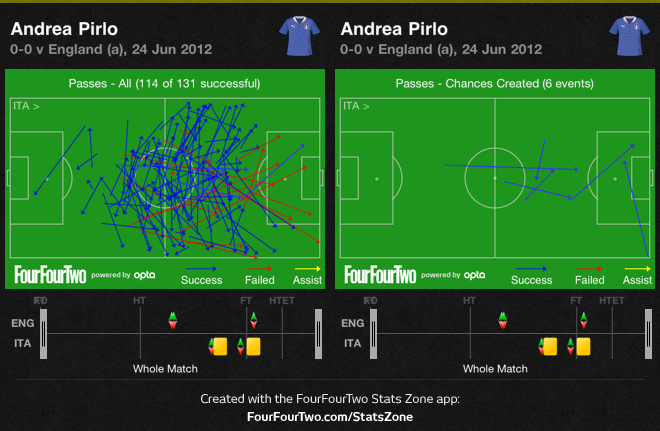 This is where Welbeck comes in. For all is perceived shortcomings, he is very disciplined positionally and defensively. With Italy's weakness at full back, perhaps Welbeck will be told to drift inwards when Italy have the ball to harass and stifle Pirlo's passing game. Though it's not as simple as, say, harassing Mikel Arteta to kill Arsenal's fluidity, if Welbeck (or whomever is on the wing) can stop Pirlo from having all the time he needs, England's chances will greatly improve.
Welbeck is at 10/1 to score first at Ladbrokes and 6/5 to start the game at Coral.
The Balotelli factor
It's always hard to predict, but he could well be the difference in this tie. When he shows up, he can terrorise a back four and dominate the game, but when he is off, he is almost counterproductive. Italy do have other options for the top spot. Cerci and Immobile both come off very impressive seasons at smaller Italian clubs, the latter in particular being suited to the central spot for Italy. However, it is almost a foregone conclusion that Balotelli shall start, but whether he shows up is always a gamble and could well decide the fixture.
Subs to win it? 
Though England's bench is perhaps lacking the superstars it possessed a few years ago, there are a number of exciting players on both sides that could swing the game late on. Though Oxlade-Chamberlain is injured, Raheem Sterling and Rickie Lambert both add a goal scoring threat and Italy's aforementioned attacking duo of Cerci and Immobile could liven up the play of the Italians. The tough, humid conditions could create a languid final twenty minutes, which would allow the substitutes to have a greater impact than usual. Perhaps this game could rest on Hodgson and Prandelli's decision making and a late goal.
Jordan is a University of Southampton graduate who produces blogs and betting previews for Howtobet4free as well as running the popular @howtobet4free_ Twitter account on matchdays.