England; thirty years of hurt isn't enough, so the Three Lions went fifty without winning the World Cup again. When Bobby Moore lifted the World Cup in 1966, there had been seven previous finals. Since then, there have been a dozen; is Russia England's Lucky 13?
We may as well get it out of the way; there's only one place to start…
1. The Winners
It's hard to imagine England winning the World Cup at the best of times, let alone now. The absence of world-class players from the squad may work in Gareth Southgate's favour; he's more likely to have a team than a group of individuals who never quite live up to expectations.
Recent results have been good. Unbeaten since losing in Germany and getting some useful draws against Brazil, Germany and Italy. A win in the Netherlands while impressive against Nigeria, in the first half at least.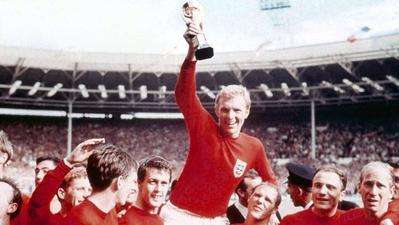 If that's enough to float your boat, the draw through to the quarter-finals certainly looks achievable. Top Group G and its most likely Senegal in the next round with Brazil in the last eight. Finish second and it's Colombia (probably) followed by Germany.
When you get to the last eight, anything can happen as nerves, luck and officials mix with your own tactics to resolve the matter.
Dare to dream? England are 16/1 to win the World Cup – visit Betfair!
2. England's Top Goalscorer
All eyes turn to Harry Kane, but we can't forget Euro 2016. He wasn't England's leading goalscorer then when so much was expected of him.
Recent performances suggest the captain's armband isn't affecting him although whether that will change when the pressure is on in a competitive match remains to be seen.
In his last seven internationals, he has eight goals.
But how do others in the squad shape up? Dele Alli is playing more of a 'team role' these days and hasn't scored for England since October 2016. It was just his second goal for the Three Lions.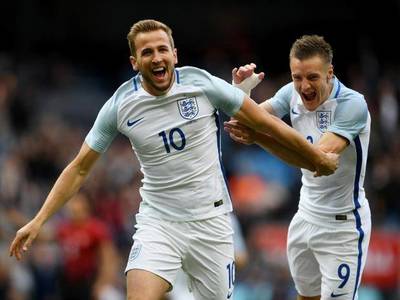 Since he last scored for England, Raheem Sterling has hit more than 40 club goals. Like Alli, he has just two goals for his country, the last coming in 2015's 2 – 0 win over Estonia.
With Kane certain to start, Jamie Vardy's prospects are limited. He was the second highest scoring Englishman in the Premier League behind Kane but has just two goals in his last seven internationals.
Danny Welbeck is the leading scorer in the squad with 15 goals and just two in the last four years. Injury means he has played just six England games in that time, but he has the technique to score more often for Southgate's team.
It is, however, hard to see beyond Harry Kane to finish England's top goalscorer @ 11/10 – visit William Hill!
3. England vs Panama
This is the match considered by many to be the easiest of the group games. In the past, there's been no such thing for England; these are the games the Three Lions tend to make a hash of.
Remember Morocco? The Republic of Ireland? The USA? Costa Rica? Iceland? England didn't win any of those matches so why think this is straightforward?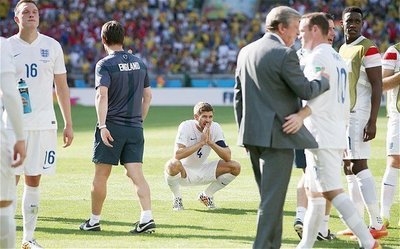 Well, Panama are the weakest team England has faced in some time. They have won one of the last five (D2, L2) and were thrashed 6 – 0 by Switzerland. The previous game, however, their physical approach limited Denmark to just one goal.
They lost 4 – 0 to the USA who aren't in Russia while Argentina beat them 5 – 0 in 2016. This is the one where England must fill their boots. It's why the appeal in this match is England to score 4+ goals vs Panama @ 13/4 – visit Coral!
4. England vs Belgium
There's an intriguing balance in this match. Both sides should have won six points by the time they meet in the final group game. That will be enough to see both sides through.
So this is a match which will decide the placings. No late David Platt winner in the dying embers of extra-time but can Danny Welbeck recreate his winning goal from when the teams last met in 2012?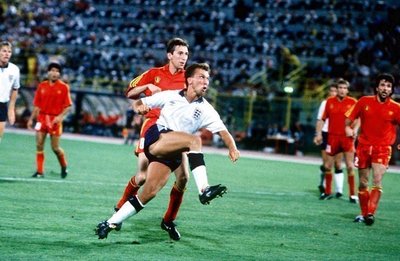 Belgium certainly have the talent to cause England problems and it would be surprising if both sides didn't score. Can England do it? If you think so, it's well worth looking at Both sides to score and England to win double @ 9/2 – visit Coral!
5. At What Stage Will England Be Eliminated
It's hard to know which England will turn up. Awful at South Africa 2010, the 2014 squad turned in performances so dire that it would be nice to think they were the nadir. At least at Euro 2016, England reached the knockout stage. Even losing to Iceland was a small improvement in that respect.
Realistically, England should qualify from the group stage this time around. And there's nothing to be afraid of in Group H; England can beat all four of the teams they are likely to face in the Round of Sixteen, just as easily as they can all beat England.
Once past that, anything is possible, but with Germany or Brazil awaiting, it seems reasonable to think England will reach the quarter-finals @ 11/5 – visit William Hill!
Please note all odds are correct at the time of publishing (17:00 7th June 2018) and are subject to change.
Stuart is a freelance writer and well-known Arsenal blogger, writing A Cultured Left Foot since 2006. As well as football, he regularly writes about cricket, tennis, rugby, baseball and American football.