Having a bet on the General Election? Check out our Free Bets page for some great free betting offers. This year's general election promises to be one of the closest races in recent memory – with seat predictions suggesting there will be another hung parliament and voter polls remaining guesswork at best, it's hard to predict who might be able to break the deadlock.
However, there has always been one certainty in election predictions: the bookmaker is (usually) right. Long before statistical sampling, past vote weighting and quotas, the betting markets consistently provided accurate political forecasting.
But how do they do this? And what makes them superior to electoral polls and surveys? Our latest infographic will take you on a guided tour of the world of political betting – and why the betting markets are the best way to predict the election.  Using odds supplied by major betting markets like Ladbrokes – a cornerstone of the UK betting and gaming industry – Bet365 and SkyBet, we go on to show which results the bookmakers are backing.
How do bookmakers calculate the odds?
Traditional bookmakers will keep an ear to the ground, following events and market activity to determine the odds – for instance, if an event is a highly probable outcome and punters are betting on it, then the bookie isn't likely to give it odds of 100/1.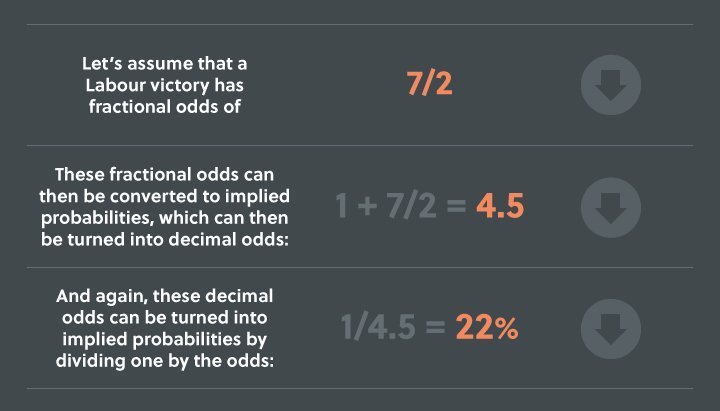 Other betting markets like Betfair allow customers to create their own markets, where each punter can choose to either take a bet or "lay" one of their own – taking the place of the traditional bookie.
If the market is "active and deep", with lots of returning customers, then the odds will be unbiased. In a betting market with low activity, the political preferences of individual punters could influence the odds – due to their size, Ladbrokes, SkyBet and Betfair do not suffer from this problem.
Do bookmakers get it right?
Given the margin for error within political polling – which common wisdom sets at +3% - as well as their lack of funding and general unreliability, political betting provides a more accurate picture of voter intention.
For an example of bookies beating the polls, we need look no further than the Scottish referendum.
Despite polls placing the Yes and No camps neck and neck with one another, the betting markets remained strongly in favour of a no vote throughout the campaign.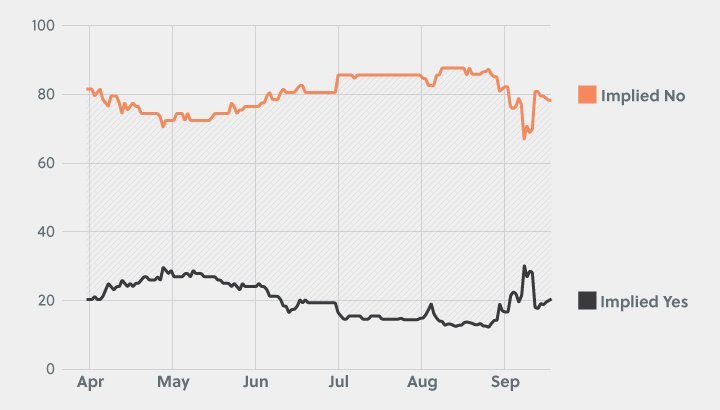 Polls are the first port of call in predicting an election – and bookmakers scrutinize the results – but unless more billionaires like Lord Ashcroft invest in marginal polls, they'll remain woefully inadequate at predicting election results.
Polling marginal seats carries a hefty fee – somewhere around £10,000 per seat – and YouGov's polls don't cover a database large enough to poll individual seats. The betting markets, on the other hand, have a vast pool of returning punters to draw upon – they are active and deep, as stated above. 

So who will win?
Based on the odds supplied by the betting market – and cross referencing them with poll based predictions – it looks as though no one party will be able to secure the required 326 seats required to secure a majority.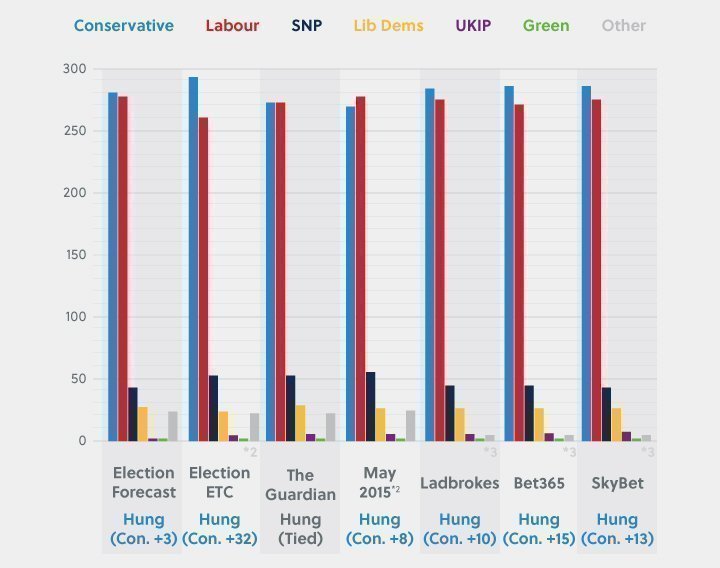 At the time of writing, it looks as the betting markets are backing X to secure the most seats – but they're still holding the most tenuous of leads.
So if no one can win outright, who what type of government are bookies banking on for after the election?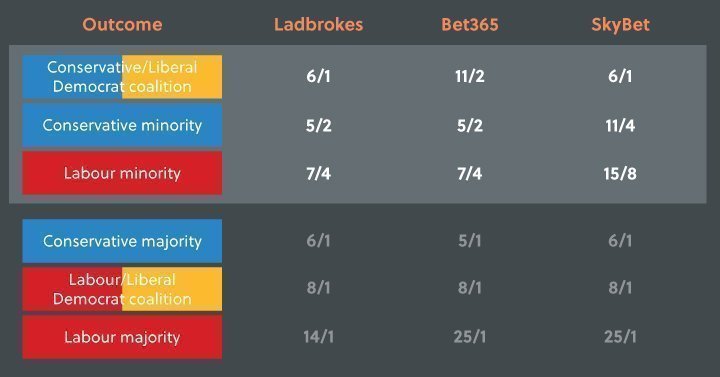 Election Day
Another coalition government looks to be imminent, but whether that government is led Tory or Labour-led is hard to say – the markets are simply too even to predict. And who can guess what backroom deals might take place?
In the run up to May 15th, the main party leaders will fighting tooth and nail to sway voters to their side, desperately trying to break the deadlock and secure a majority.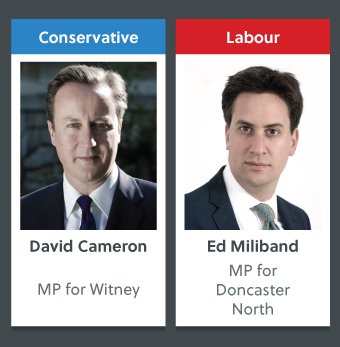 So who'll be in Downing Street after the election? It all depends on your vote.
Sources
Brocker, A. (2011). How to Convert Odds to Their Implied Probability. bettingexpert.com
Electoral Calculus. (2015). General Election Prediction. electoralcalculus.co.uk
Fisher, S. and Jones, J. (2015). 2015 UK General Election Forecast. electionsetc.com
Hanretty, C., Lauderdale, B. and Vivyan, N. (2015). 2015 UK Parliamentary Election Forecast. electionforecast.co.uk
May2015. (2014). Without more billionaires, predicting British elections will remain guesswork. may2015.com
May2015. (2015). Who do the betting markets think will win the election? newstatesman.com
Monk, T. and Lambert, H. (2015). Can any party win a majority? may2015.com
For more information on how bookmakers are predicting the general election, make sure to read our 'How Do Betting Markets Predict the General Election' infographic below: 

Add this infographic to your website by copying and pasting the following embed code:
Francois is one of Howtobet4free's co-founders and has written many of Howtobet4free's popular Betting Guides. Francois also helps run the @howtobet4free_ Twitter account