It's the fight both believe they can win and know how they will lose. Deontay Wilder is convinced he can outpunch Tyson Fury with the power but is wary of going the distance. Fury knows in those circumstances, Wilder will wake up to the points difference between them too late.
Fury is obsessed with being recognised as the "lineal champion". The Mancunian is undefeated and deserves respect for that. There is always a 'but' with Fury; it's quite a big one as well. But is this Tyson Fury the same Tyson Fury who claimed European and World crowns? Judging by the two fights earlier this year, the answer is patently not. However, can he bring that beast to the surface against Wilder?
Deontay Wilder
Whether it is a clubbing left or overhand right, Deontay Wilder is a devastating finisher in the ring. With 39 of his 40 fights not lasting the distance, there is a clear and present danger for Tyson Fury to be wary of.
Similarly, the American public. Wilder is relatively unknown in his own country, surprisingly. Yet, not so. America loves a winner and there haven't been many of those in the past decade as far as the heavyweight division is concerned.
Out of Tuscaloosa in the deep south of Georgia, Wilder has the chance to stamp his authority on a division desperate for another hero. Wladimir Klitschko was a giant but Wilder must elevate himself to the level above that. The ones where Foreman, Norton, Frasier all rest their laurels. Heavyweight boxing is desperate for it; America is desperate for it.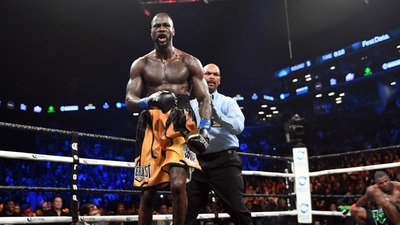 There is a wariness of Fury in Wilder's camp. The unpredictable Briton veered from extreme boredom to pedestrian in his two comeback fights. He hasn't yet shown reason why Wilder cannot win yet they know he can. Fury is an athletic heavyweight, capable of dancing for any number of rounds and therein is Wilder's vulnerability. If it goes the distance, the Briton's stamina favours him with poisonous jabs picking off the Alabaman.
The doubts about Wilder stem from a lack of quality in his defences of the WBC crown. Johann Duhaupus, Artur Szpilka, Chris Arreola, Gerald Washington, Stiverne once more and Luis Ortiz; they don't strike fear into the hearts and minds of the boxing public.
The momentum was toward a unification bout with Anthony Joshua, but Fury beat the Watford-born fighter to the punch. That still seems inevitable, but you can't help but wonder if the AJ fight was better for Wilder. He's almost on a hiding to nothing in taking on Fury; his future is up for grabs but there's no time like the present.
Tyson Fury
Haley Joel Osment saw dead people, Tyson Fury sees fear. During the promotional tour for the fight, the self-styled Gypsy King told the world that is exactly what he saw in Deontay Wilder:
"He hasn't got what he says he's got. I see fear in Deontay Wilder, I could sense his heartbeat through his suit."
"I know when a man's scared - Wilder's terrified of me. He's timid when he's around me - looks at the floor, doesn't make eye contact, all that sort of stuff. Even when he's around me, off-stage."
All the while, gnawing at his mind is the prospect of not getting a fight with Anthony Joshua. As much as Fury is relishing this moment, he is looking to the future. Win this bout and that future is in his grasp.
Fury's history of mental illness makes his journey almost a fairy tale. Will this be the happy ending? It's a tall order; Wilder has 39 wins out of 40 by knockout and is probably the best puncher in the business, certainly in the heavyweight division. The question is whether Fury has the chin to withstand the inevitable punch which lands.
The two bouts taken since returning to the ring have seen Fury lackadaisical at best. He was more interested in the fighting outside of the ring than his opponent Sefer Seferi. Meanwhile, Francesco Planeta took Fury the distance in a bout which craved an early and spectacular finish. Is Fury trading on his reputation?
Yet as Fury said recently, his winning record doesn't mean a great deal in the context of this fight. Neither of record does; they merely offer pointers toward the outcome.
In a week when Creed II debuted across the USA, can Tyson Fury become this generation's Rocky?
FORM (Last six bouts)
Wilder - WWWWWW
Fury - WWWWW
STATS
Wilder has 40 wins, 39 by knockout.
Fury has 27, 19 by knockout.
Wilder's last seven fights were all won inside the distance (KO 6, RTD 1).
Two of Fury's last seven went the distance (KO 2, RTD 3).
CURRENT MATCH ODDS (BEST PRICED ODDS)
Deontay Wilder: 8/11 – Betfair!
Draw: 28/1 – BoyleSports!
Tyson Fury: 11/8 – Paddy Power!
SUMMING UP!
While Tyson Fury talks a good fight, he has yet to deliver since climbing back into the ring. Now would be a good time to start. The Mancunian lacks the power of his opponent, which is surprising given his huge physique.
Despite this, Fury is the more agile of the two boxers which will help if he plans on taking this the distance. The danger in that is, however, getting tagged by a punch he thought he had avoided.
Wilder is the bookmakers favourite which comes as little surprise. His performances are more convincing than that of Fury yet is Wilder better than Klitschko in his prime? It's hard to see that he is as a complete boxer but then Fury is a pale shadow of the fighter which beat Klitschko.
MY RECOMMENDED BETS
There's more....
>>> Deontay Wilder vs Tyson Fury Betting Offers <<<
There's some great boxing betting promotions for the fight. We've rounded up the best of it below:
Betfair Sportsbook

Betfair Sportsbook have enhanced odds on Tyson Fury to beat Deontay Wilder for new customers as well as as an odds on Deontay Wilder to win a grouped round betting:

New Customer Offer
40/1 on Tyson Fury to beat Deontay Wilder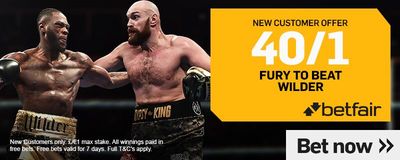 New Customers can get Fury at an enhanced 40/1 to beat Wilder. Max Stake £1. Winnings paid in free bets. Full T&Cs Apply. 18+|Gamble Aware.
CLAIM THIS OFFER - Visit Betfair!
Existing Customer Offer
9/2 Wilder to win in rounds 5-8
New and Existing Customers. £50 Max Bet. Sportsbook only. Betfair Boxing Rules apply. Applies to Wilder v Fury. T&Cs Apply.
CLAIM THIS OFFER - Visit Betfair!
Paddy Power

New Customer Offer
Wilder v Fury - Risk Free 20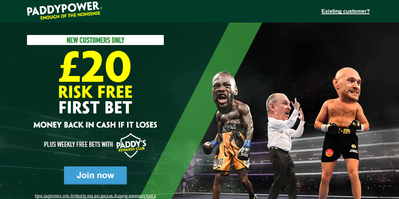 New Customers can get up to €/£20 in cash back if their first Sportsbook bet loses. Only deposits made using Cards or Paypal will qualify for this promotion. Full T&Cs Apply. 18+|Gamble Aware.
CLAIM THIS OFFER - Visit Paddy Power!
Existing Customer Offer
6/4 Fury to be knocked down in Rounds 1-6
New and Existing Customers. £50 Max Bet. Paddy Power Boxing rules apply. Applies to Wilder v Fury. T&Cs Apply.
CLAIM THIS OFFER - Visit Paddy Power!
Money Back as a Free Bet on #WHATODDSPADDYS if Fury Wins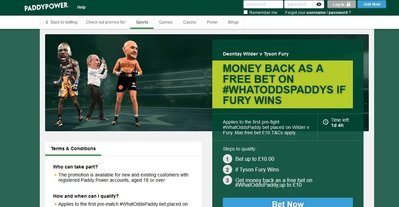 Applies to the first pre-fight #WhatOddsPaddy bet placed on Wilder v Fury. Max free bet €10.T&Cs apply.
CLAIM THIS OFFER - Visit Paddy Power!
Please note all odds are correct at the time of publishing (00:00 1st December 2018) and are subject to change.
Stuart is a freelance writer and well-known Arsenal blogger, writing A Cultured Left Foot since 2006. As well as football, he regularly writes about cricket, tennis, rugby, baseball and American football.