Arsenal vs Barcelona is almost as common a fixture in the Champions League football calendar as Arsenal vs Hull City is in the FA Cup. Arsenal have played Barcelona seven times in recent Champions League history, with Barcelona winning four out of seven of the meetings, and Arsenal only winning in one of those ties.
The task facing Arsene Wenger's men is perhaps the most difficult ever in Arsenal-Barcelona Champions League history, as in Messi, Neymar, and Suarez, otherwise known as MSN, Barcelona possess the most potent and talented strike force in the world. The statistics for MSN are absolutely phenomenal and include the following:
Suarez (scoring 15 goals) and Messi (scoring 14 goals) have each scored a greater number of goals than the whole of the Arsenal team (scoring 13 goals) in 2016.
Messi, Suarez, and Neymar have scored in total 91 goals in all competitions this season. This is 30 goals more than Arsenal, who have scored 61 goals so far.
Messi, Suarez, and Neymar in less than two seasons, have scored 213 goals.  
If that wasn't impressive enough, Barcelona are unbeaten in 32 games since losing to Sevilla in early October last year, and have all but wrapped up the La Liga, with a stunning 8 point gap between Atletico Madrid in 2nd place. The bookmakers have all but paid out on Barcelona, with BetVictor best priced at odds of 1/20 and Ladbrokes worst priced at odds of 1/25.
Arsenal on the other hand have been less fluent, although are competing strongly on three fronts with arguably their best chance in a decade to win the English Premier League. Arsenal have recently lost to Chelsea in the league, and only just scraped past an unlucky ten man Leicester City side, so have hardly set the footballing world on fire. The Arsenal team have tended to make heavy work of crossing the finishing line in recent weeks, and in fact Arsenal's last victory by more than two goals was in their last Champions League game against Olympiakos in early December. Arsenal will welcome back the likes of Mesut Ozil, Aaron Ramsey, Petr, Cech, Oliver Giroud, and Alexis Sanchez who all were not included in the starting XI in the 0-0 draw against Hull City on Saturday lunchtime. Arsenal look a lot more balanced than in previous years, but at the back I think they are still potentially very vulnerable to pace – this was evidently exposed against Leicester City and Chelsea in recent weeks. Koscielny has the pace to get out Mertasakcer out of trouble once or twice, but with a team like Barcelona the attacks come in unstoppable waves. I can't see Arsenal keeping a clean sheet against Barcelona, and anticipate we could see a very attacking first leg with lots of chances.
What am I betting on?
Based on the statistics of MSN, it's hardly sticking your neck out to predict goals, but it's just too tempting not to back. There are a variety of ways to potentially play this, but considering the last seven games between the two sides have averaged 3.57 goals (and that was without the MSN trio), I would be confident of backing goals. I'm going to buy goals at SpreadEx at 3.2 (the spread is 3 – 3.2). For those of you who want to find out more about spread betting and what it has to offer check out our full spread betting guide by clicking here!
My second bet would be on Barcelona to win and both teams to score which is best priced with William Hill at 11/5, worst priced at evens with Betfred.
My final bet would be on Alexis Sanchez to score against his old club, which is best priced at 3/1 with Ladbrokes, worst priced at evens with Coral.
Also as an extra bonus, bet365 are offering new as well as existing customers a £50 risk free in play bet. In order to qualify place a pre-match bet (up to £50) on the Arsenal vs Barcelona game and bet365 will give you a risk free in play to the same stake (up to £50). To find out about this offer and be taken to the bet365 website please click here.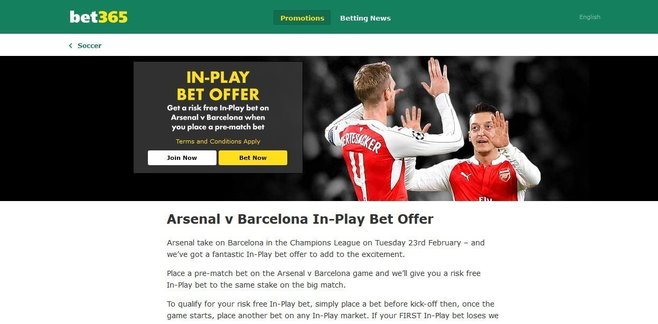 Francois is one of Howtobet4free's co-founders and has written many of Howtobet4free's popular Betting Guides. Francois also helps run the @howtobet4free_ Twitter account