The up and coming game against Juventus and Barcelona is the stand-out fixture in the up and coming Champions League knockout round, and this one promises to be a belter over the two legs.
Barcelona were fortunate to escape from their tie against France's PSG. After winning what was a debatable penalty by Uruguayan superstar Luis Suarez deep into stoppage time, the side completed one of football's most astonishing turnarounds. The win allowed the Catalan giants to set up what looks like the tie of the round, and they will head to northern Italy confident but wary following their exploits in the last round, which exposed the Spanish's side's frailties in defence but also their immense strength going forward.  
Juventus are a side that are in great form and will fancy their chances against Barca, they are after all one of European football's heavyweights, and will not be over awed by the arrival of the stellar opposition, and they will look to exploit the weaknesses exposed by PSG. Since the turn of the year Juventus have lost just twice, which included their mid-week defeat to Napoli in the Italian cup and have a comfortable six point gap to second place Roma in the league.
Not that Barcelona are not in great form either, despite not reaching their usual standards in games this season, they are just two points behind leaders Real Madrid and they themselves have lost just three times this year, including the dismal 4-0 defeat away to PSG.
Both side have great history within the tournament, are in good form, have some of the world's best players in their squads and are desperate to reach the next round of the competition and all this points to the tie being one of the key games in this year's Champions League.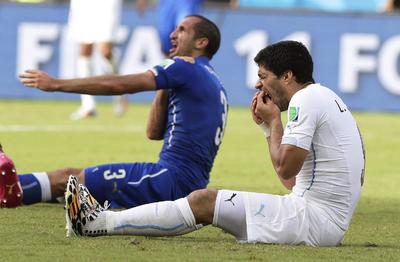 Will Luis Suarez be able to sink his teeth into Juventus' defence?
JUVENTUS
(Form Guide - DWWWDL)
The Old Lady of Italian football looks like becoming a force once again in European football, just two seasons ago the side were beaten by their opponents 3-1 in the final, in what was the last time the two sides met.
Italian teams have struggled to make any real impact on the European competition recently, but Juventus look the most likely to buck that trend and the game against a Barcelona, who look weak defensively could provide them with a golden opportunity to progress further.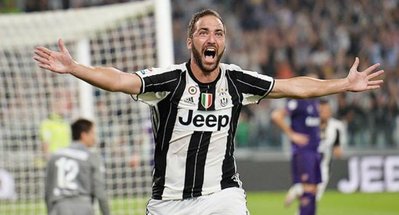 The Argentine hitman Gonzalo Higuain has been in great form this season, can he inspire his Juventus side against Barcelona?
Key players such as the attacking talents of Gonzalo Higuain, Paulo Dybala and Miralem Pjanic will need to ensure they keep up their good form in order to overcome their opposition, but as the game with PSG showed, Barcelona are vulnerable in defensive areas when they come up against quality opposition and expect Juventus to start strong at home as they aim to head to the Nou Camp with a real chance of progressing.
Juventus, like all Italian sides are solid in defence, the side are so settled it would take all of Barcelona's attacking ingenuity to break down the defensive make-up of Juve, which consists of Italian captain Giorgio Chiellini and Leonardo Bonucci, which will allow them to gain a foothold in a game that could be frantic from the off.

One key area for Juventus could be aerial duels, the side are exceptionally strong in this area, whilst their opponents are shambolically weak in this department, so expect the Italian side to dominate from set-pieces and could be a key factor as to the outcome of this tie overall.
BARCELONA
(Form Guide - WWLWW)

Barcelona's miraculous escape from the last round against PSG after being 4-0 down at the end of the first leg, and still needing four goals heading into the last ten minutes of the return leg, will do one of two things, cause their opponents Juventus to head into the game with some hope in defeating their much fancied opponents, while also allowing Barcelona to take stock ahead of the game and work on their defensive make-up ahead of a tie, which should be very close between them and Italian champions Juventus.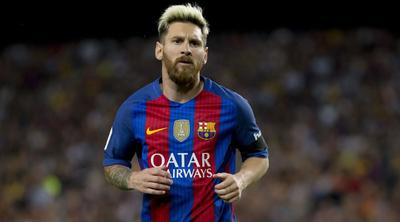 Can Lionel Messi lead his side to gaining an advantage ahead of the return visit to the Nou Camp?
It is pretty clear that Barcelona would not have progressed without Luis Suarez winning the penalty that saw the Spanish side somehow escape from the tie when they had all but thrown it away. What it also allowed their up and coming opponents to do, was realise where their weaknesses are. Barcelona are the most attacking side in Europe and the attacking trio of Lionel Messi, Neymar and Suarez will give any defence a test, and in Juventus they may just have their hardest challenge to date this season.
If the Italian team can stop the flow of these talented forwards and impose their own game, Barcelona could struggle to take the tie back to Spain with it in their favour, although what the PSG game showed is that the Barcelona never give up and the return leg, at home in front of their fans, will give them hope no matter how finely balanced the tie is.
Barcelona's weakness in defence could be exposed by the physicality and directness of the Italian side, and expect the game to be a feisty and eagerly contested game, and one that could see Juventus dominate in many areas such as set-pieces, whilst they could also contain what is surely the most impressive forward line in world football.
STATS
Juventus have scored 14 goals from set-pieces which is 23% of their goals, Barcelona have conceded 10 goals form set-pieces, 38% of the goals conceded.
Juventus score on average two goals per game, Barcelona score on average 2.9.
Barcelona have scored an impressive 62 goals this season from open play, Juventus have almost half of that with 38.
Juventus on average win 12.8 aerial duels per game, Barcelona win just 8.9.
CURRENT BEST MATCH ODDS (BEST PRICED ODDS)
Juventus win: 17/10 with Betfair Sportsbook - Bet Here!
Draw: 9/4 with Paddy Power - Bet Here!
Barcelona win:  9/5 with William Hill - Bet Here!
HEAD TO HEAD
Juventus    1:3  Barcelona
Barcelona   1:2  Juventus
Juventus    1:1  Barcelona
Juventus    1:0  Barcelona
Barcelona   3:1  Juventus
Juventus    1:1  Barcelona
SUMMING UP!
If you were to pit these two sides against each other four years ago the tie would be a racing certainty, since then, Italian side Juventus have become the dominant force in Italian football, and it now looks like they are aiming to bring the glory days of European success back to Turin.
This Barcelona side might have been lucky to escape from the last tie against PSG, but they will go into the away fixture against the reigning Italian champions with a huge boost in confidence after completing one of the greatest comebacks in modern times.
Expect set-pieces to play a pivotal role in the game and could ultimately determine where this tie is settled, a physical performance from Juve could see them head to the Nou Camp with a lead. Should Barcelona's defence turn up like they did in the opening fixture against PSG, then expect Italian champions Juventus to emerge victorious, a 2-1 lead for them could be on the cards here.
MY RECOMMENDED BETS
Paul is an aspiring sports journalist. His team is Scarborough Athletic (soft spot for Hull City). Paul was on the pitch when Scarborough were relegated by a last minute goal by Carlisle goalkeeper Jimmy Glass. In his previous life as a chef, Paul cooked for Neil Warnock and the Leeds United team. Paul will preview English football games.