It's a touchy subject in Italy. In a country which has an international reputation for its players' longevity, from present day greats like Totti and Di Natale to Del Piero and Maldini, the case of Andrea Pirlo's decline this season is set perpendicular to the norm. His proposed move to US club New York City FC makes sense, as the playmaker has increasingly been caught in possession or struggling to provide the cover to his defensive line the regista position requires. Curiously, Pirlo often still covers more distance than anyone in games, but these statistics can often mask the truth. Saturday may be the mercurial playmakers last ever game for The Old Lady, but the question on the lips of many is if he should start his final match on the pitch or on the bench.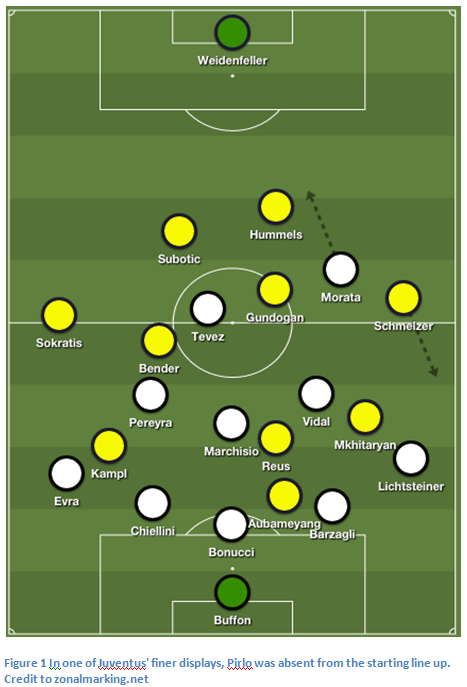 Certainly, many of Juventus' better performances in the Champions League have come without Pirlo in the side. Juventus' demolition of Dortmund featured a midfield trio of Pereyra, Vidal and Marchisio in a 5-3-2 not often deployed by Allegri. It was a game which demonstrated exactly how Juventus will need to play to ride out the storm of Barcelona. Whilst Chiellini's absence will put a dent in the idea of three centre backs, the theme of play will be exactly the same, pack the central areas of the pitch and smartly cut down Barcelona's dangerous passing options from midfield and then move swiftly out to counter. Against Dortmund, the forward pair of Tevez and Morata were able to find the appropriate gaps between the midfield and defence on the counter, giving players with great transitional play, such as Marchisio and Bonucci, the ability to swiftly and simply deliver the ball to their danger men. Whilst we are all aware of Pirlo's ability to deliver perfect passes, those passes are going to be played after lengthy periods of sitting deep and pressing appropriately. Pirlo's role in midfield may well be usurped my Marchisio, who possess Pirlo's passing range, as well as a better turn of pace that may be necessary when Juventus are not in possession. Perhaps putting the more physically dynamic players like Pogba, Vidal, Pereyra or even the returning Asamoah alongside Marchisio will give Juventus the added rigidity that is necessary to beat Barcelona.
Of course, one may well argue that with up to four centrally placed midfielders, Juventus may well be able to accommodate Pirlo more so than as part of a threesome. In a 4-3-1-2, with Arturo Vidal at the head of the bunch, Juventus would invite pressure from Barcelona's marauding full backs, but also give opportunity to their forward pair, and even Vidal, to exploit the spaces left by those incisive runs from deep. If Saturday is to bring a dynamic and free flowing fixture, expect the full back area of the pitch to be at the centre of the battle.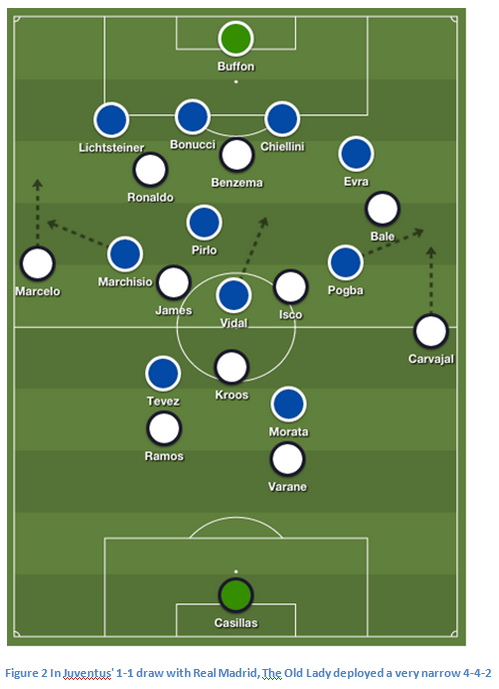 Ultimately, whilst Pirlo may well start on Saturday, what is perhaps more interesting is the questions asked about the aging playmaker. A couple of years ago, one may think if Pirlo performs, Juventus could win and now Pirlo's performance could well cause Juventus' loss. Pirlo will likely be deployed in a four man midfield, trying to keep Barcelona's midfield and full backs in front of them at all costs. However, this narrow midfield will need to be dynamic in its positioning, as Barcelona will regularly overload the wide areas of the pitch, potentially leaving Evra and Lichsteiner abandoned. As the central midfield move out to assist the full backs, this could in turn leave Pirlo exposed centrally. If Juventus are to win, it will be a precarious and delicate balancing act, and Andrea Pirlo will have to be on top form for their plan to be executed.
Jordan is a University of Southampton graduate who produces blogs and betting previews for Howtobet4free as well as running the popular @howtobet4free_ Twitter account on matchdays.