Unlikely Events Do Happen!
One of the most exciting aspects to betfair is the opportunity to lay outcomes at extremely low odds. Here is perhaps where the biggest value can be found as many punters overestimate the chances of an event happening. Just think of recent sporting events where a team or player has come back from the brink of certain defeat. The unexpected does happen and it's surprising how often it does, here are a few examples in recent betting history:
Football: Germany 4-4 Sweden, 16th October 2012: With Germany 4-0 up with 30 minutes to play in seemingly total control Sweden decided to mount an incredible comeback to level the game at 4-4 with injury time winner from Rasmus Elm. Germany were lowest priced at odds of 1.01 to win the match and the draw at decimal odds of 1000 before Sweden came back to draw the game. Some may even question whether decimal odds of 1000 for a draw in the game offered value, but the unthinkable did happen and Germany lost a 4 goal lead at home with barely 30 minutes to play
Tennis: Fernando Verdasco vs Rafael Nadal, 10th May 2012: One of the biggest shocks in the Betfair markets occurred in the Tennis match between Fernando Verdasco and Rafeal Nadal. Verdasco managed to pull of his first victory against his fellow Spaniard, despite Nadal trading pre-game at 1.04 and down as low as 1.01 inplay. Nadal was a double break up in the third and decisive set before losing three consecutive service games to lose the match. As you can see from Figure 3, a seven figure amount was traded at odds of 1.01 in the market on an outcome (Rafael Nadal win) that resulted in a loss.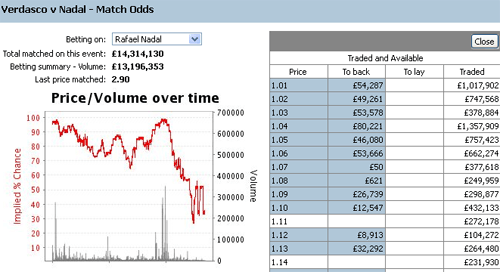 Football: Barcalona 2-2 Chelsea, 24th April 2012: On the way to triumph victory in the 2011/12 Champions league Chelsea certainly rode their luck. Chelsea took a 1 nil lead into the second leg at the Nou Camp knowing that they need to likely score or not lose the match. After Barcalona took a one nil lead in the 35th minute John Terry was then sent off, which completely swung the tie in favour of the Catalans. When Iniesta made it 2-0 shortly before half time it appeared to lost cause for Chelsea, down to ten men and 2-0 down against arguably the greatest footballing side of the recent times. When Barcelona took a 2-0 nil all the money was on Barcalona and they traded at 1.01 for £350,000 with the draw priced at 1000 on the match odds Betfair market. This example really highlights how some teams like Barcelona can be so popular that markets can over react and big profits can results for long odds layers.  
Football: AC Milan 3-3 Liverpool, 25th May 2005: In the 2005 Champions League Final AC Milan were 3-0 up at half time with the game far out of reach of Liverpool's grasp. AC Milan were trading at 1.01 to win the trophy and the match odds, however a complete reversal in the second half saw Liverpool come back and draw the game 3-3 in 90 minutes and then go on to win the game on penalties.
Tennis: Roger Federer vs Wilfred Tsonga, 29th June 2011: Roger Federer (like Barcelona) has become very popular with the betting community, especially those looking to bet large amount of cash on so called "dead certs" or "bankers." Federer while a favourite pre-game was looking all but certain to wrap up victory after going two sets up against Wilfred Tsonga at the 2011 Wimbledon Tennis Championships. Federer had traded for £100,000s at 1.01 and even bigger sums at 1.02-1.05, however in the third set the momentum changed and Tsonga engineered a remarkable comeback to win the match in five sets. It was the first time Federer had ever lost from two sets up and sent a shiver down the spines of those banker low odds Federer backers.
Francois is one of Howtobet4free's co-founders and has written many of Howtobet4free's popular Betting Guides. Francois also helps run the @howtobet4free_ Twitter account