The feeling of landing a winner is always exhilarating. It is the culmination of some serious detective work though the form guide and of course a little bit of luck. And it makes no difference to the price in most cases: most of us appreciate even the shortest of odds selections ending up in the winning enclosure.

However, when we take a bit of a gamble and go against the tide by selecting a much bigger priced choice, whether that be a shock football score result or totally unfancied horse, that feeling of elation is somewhat multiplied. Not many punters would have made that selection and that of course makes you feel extra special: you knew something that somebody else didn't!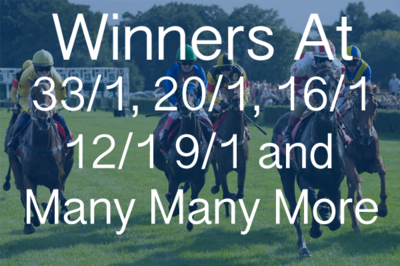 But of course, these occasions are limited. Not only do big priced horses rarely win, it is mighty difficult to pinpoint where and when these winners materialise. Consequently, that's the chief aim of this piece: pointing you in the right direction of where to increase your chances of selecting a big priced winner.

We'll take a look at the kinds of races that produce shock results and delve into some of the statistical banks and identify any possible clues there. However, the greatest chance of landing a big priced winner is through the ante post betting markets and this is a good place to start.
ANTE POST BETTING

Ante post bets are without doubt the riskiest propositions around. However, the rewards can be considerable and it is the shrewdest and most informed method of gaining a big priced winner.

But what exactly are ante post bets?

These technically are bets placed before the first official betting show. Ante post bets are usually available up to around 3 days before the event: in other words they are bets placed in advance of an advertised event. However, the price you can obtain will depend on how far in advance the event is.

More often than not, a decently rated horse could be priced as big as 33/1 (or even higher) for an event that is 6 months away, especially if there are a lot of runners advertised. This is where you get your big price value. The key is to utilise your knowledge and look for horses that have proven ability who are well priced for an event scheduled for the future.

For example, let's take the example of Native River and his Gold Cup campaign last year. At around October 2017, the Colin Tizzard chaser was priced around 16/1 for The 2018 Cheltenham Gold Cup. Reports from Tizzard's yard suggested that he had a slight injury and would be off the track until around February 2018. Bookmakers then make the decision, based on the knowledge they have, that the horse is under a slight cloud and 16/1 would be a fair reflection of his chances of even running in the Gold Cup.

And that is why ante post prices are generous: your selection must run in order for your bet to be valid, otherwise it's a loser. As it was, the 16/1 was a fantastic deal as the horse went on to compete in the Gold Cup and subsequently won it.
So what's the downside to ante post betting?

Ante post bets can be considered losing even if the selection doesn't run. Therefore, it pays to avoid certain horses that have been prone to injury or are particularly fussy on which type of surface they prefer to run on: more often than not, horses have been withdrawn at the last minute due to changes in the going.
If this proposition sounds a little too risky then the alternative is to wait a little longer before the event and look for races which are advertised as NRNB (Non Runner No Bet) as these are still technically ante post bets but omit the rule whereby your selection is automatically defeated if the horse is withdrawn. However, it is unlikely you will obtain the lucrative odds that would be on offer on a full ante post bet.

In terms of gaining these big prices, it is best to look at the high profile events as the fields are always huge, thereby reflecting generously offered odds. The Cheltenham Festival is without doubt the busiest and most active ante post market around.
ANTE POST BETTING FOR THE CHELTENHAM FESTIVAL

The Cheltenham Festival lasting four days during the middle of March is widely recognised as the biggest and busiest betting period of the year. The ante post betting markets usually open up as soon as the previous Festival closes. Some markets are automatically available as soon as a particular race has finished.

All too often you hear prices quoted for winners of, for example, The Champion Hurdle or The Gold Cup for the corresponding next year. However, these quotes should be avoided as the price doesn't really reflect another year of training, potential injuries and who knows what else.

The best option is to study the ante post lists around 6 months before The Festival and spot any form horses, especially well weighted ones for handicaps, and seize them at generous odds.
BIG FIELD HANDICAPS

Big field handicaps are very popular with punters hoping for a win on a big priced outsider for the simple reason that larger fields means a much more competitive race. In a 30 runner handicap, the favourite is likely to go off at around 6/1 or more with most of the runners priced at 10/1 or more.

Therefore the likelihood of a big priced winner is dramatically increased. Big priced winners in these events nearly all share the same major characteristic: lack of recent winning form. However, that of course does not rule out that the horse has ability and this is key. The Grand National winner Mon Mome who triumphed in 2009 at astounding odds of 100/1 is an infamous example.
MON MOME

Mon Mome really should not have been a 100/1 winner of The Grand National. He was the favourite for The Welsh National that season and had also won a valuable Cheltenham handicap: he was subsequently only 8ib up on the weights for The Grand National after that Cheltenham win. However, the horse had seriously flopped in his four races leading up to the Grand National.

The ground was also a questionable issue with him. He had been running on his supposedly favoured going of good to soft/heavy, although a closer analysis of his form over that ground suggested that he had beaten by somewhat lesser rivals, thereby, the good form on that ground was slightly misleading. The Grand National that day had livelier ground and this actually suited Venetia Williams 'charge.

Therefore the moral of the story is to thoroughly check the form of a horse going back a year (or even more) to see if there are clues to how a horse performs in certain conditions and to check to see if the horse had any noteworthy wins, such as winning in listed company or against confirmed talented horses.

A change in the going from what has been the norm for a number of weeks can wreak havoc on the formbook and therefore produce some heftily priced winners.
SHOULD I BACK BIG PRICED HORSES IN THE GRAND NATIONAL?
Hell yes! In the last twenty years, the race has produced 8 winners at 25/1 or above including two winners at 66/1 and 100/1 respectively. It thoroughly pays to delve through the formbook and pick out 10 horses that are priced at 33/1 or above and pinpoint those with form over the prevailing going or on extended distance races in the last two years or so.

Performances in The Welsh National or Uttoxeter Midlands National are well worth scrutinising as these two races are the nearest in relation to the Grand National distance of 4 miles 4 furlongs. Additionally, any horse that has a good record of getting around the Aintree course in one piece (and not necessarily being placed) is also worth considering.
BETTING PROMOTIONS WITH BIG PRICE OFFERS

One of the most recent initiatives introduced by bookmaking firms is to offer dramatically inflated odds for short priced outcomes in football or racing. Examples of this might be offering 33/1 for Manchester United to win a home game or Altior to win The Champion Chase at The Cheltenham Festival. These are obviously fantastic opportunities to seize upon although these are predominantly for new customers and offering win funds in the form of free bets.
GOLF BETTING

Big fields is a key link for landing big winners and although horse racing, whether that be the flat or jumps, can provide this kind of betting opportunity, it is actually the sport of golf that provides the biggest fields.

The big tournaments such as The Masters, US and UK opens usually have around 80 entrants with colossal prices of up to 250 and 500 to 1 for some golfers who are struggling for form or relatively inexperienced in this type of competition.

The best approach here is to find a golfer with some past tournament form from the last several years but not necessarily in strong current form. Each way golf betting is also a solid option especially as many of the firms offer generous placings for each way up to 8 and even 10 places.
OVERALL
Landing big winners is without doubt relying on some elements of luck. However, the propensity to win on decent priced outsiders can be narrowed down to some careful study of the ante post markets (especially Cheltenham and Aintree) and seizing on value prices for highly regarded horses in advance.

Big fields can be also be narrowed down to seeking those horses who have proved ability at some point in their careers, whilst golf bets placed before a tournament begins can offer some tempting value on golfers with realistic chances of landing a big tournament.
Matt is Howtobet4free's resident Horse Racing expert, writer, tipster and a huge Cheltenham Festival fan. He occasionally dabbles in Golf, Football and anything else you can gamble on!