So the Premier League 2016/17 season has kicked off and you're full of excitement, hope and expectation about what the football season may have in store, as well as the multitude of betting opportunities a full football calendar throws up. Whether you enjoy betting on match odds, goal scorer markets , correct score, Asian handicaps, ACCA (Accumulator) bets, or season long bets, the start of the football season is a good time to re-asses your betting strategy and get back to basics.
How to bet on the Premier League is a key consideration for anyone with any interest in Premier League football betting. Although the following fundamentals are directed towards specifically how to bet on the Premier League, they could quiet easily be applied to any football betting. Whether you're a complete betting novice or a betting pro, you should pick up a couple of hints, tips and tricks on how to bet on the Premier League.
This how to bet on the Premier League article will focus on:
Best New Customer Betting Offers

Existing Customer Betting Offers
Placing Bets
Before I tell you where I'd recommend you sign up for a new betting account to bet on Premier League football, and what the best betting offers to take advantage of are, I want to give you some help and general advice about placing bets on Premier League football.
Stay up to date with Injuries/Suspensions/Statistics/Form
Before you consider placing any bets it's vital that you make sure you have accurate information regarding potential injuries, suspensions, statistics, form or any other information which may have an impact on the bet. There is a vast array of information out there these days, but as a minimum I would look at media sources such as BBC Football and Sky Sports Football websites and look for information relating to the team or game I was interested in betting on. Radio and TV sources of information such as BBC Radio Five Live and Sky Sports News can be useful too. Twitter is another valuable source of information, although I would be more cautious of using Twitter exclusively purely because it also full of rumours and completely false information. There is a plethora of information about Premier League football out there, so there is no excuse.
The impact of a missing key player on either side can have a big impact on odds. Before considering placing any bets, make sure you know which players are unavailable at the very least. Don't just assume by looking at the odds, otherwise you might get caught out! For this reason I would generally advise that bets should be placed a couple of hours before the kick off time in most situations.
Match Odds – Backing Strong Favourites
A general tip when looking to back strong favourites (odds of less than 1/2) is that strong favourites in the Premier League tend to see their odds shorten as the match time gets closer. Say a team a strong team is playing on Sunday at 4pm, in my experience it's quite common for that team's odds to progressively shorten from Friday evening until Sunday afternoon. The difference may be slight, however it's clearly it's better to obtain more favourable odds if possible.
I have different theories for this, firstly it may be the because of the bias by some bettors for short odds favourites, who because of their short odds present a more likely winning bet than a longer shot. Another reason may be because of the scheduling of the Premier League games staggered over the weekend means that money tends to flow to focus on next live game or two, rather several games in front. This tends to present opportunities to back favourites at higher odds a few days before the game date. The only downside to this strategy is that, by backing a few days early it can leave you a little exposed should there be a dramatic change in the team news. 
First Goal Scorer Bets – Be Warned!
Those of you who are into goal scorer bets, and particularly first goal scorer should be warned to be careful when backing a first goal scorer bets too early. This relates to the point mentioned above about injuries, suspensions, and general team news. You don't really want to be backing a player for first goal scorer if there is a chance he won't be in the starting eleven, particularly for those players which generally do start and the odds reflect that. If you're lucky, even if you back a player who doesn't start you should get your money back if that player has not come on as a sub before the first goal is scored. The worst case scenario is that you back a player to score the first goal (at odds which reflected he would be starting the game), he comes on as sub with little time to impact the game and score, and you lose the bet.
If you are particular good at finding out teams news early, you can sometimes find very generous odds on forward players who perhaps don't generally start a game, but who offer fantastic value if they do in fact start the game. This can sometimes be a shot to nothing, knowing that in most situations a goal will be scorer long before the player comes on. And if the player does unexpectedly start, then you have very generous odds on a first goal scorer bets.
Backing Teams Who Have Been Playing in Europe During The Midweek
A rookie mistake is looking at a Saturday fixture involving one of the big teams away to Stoke (or some other stereotypically gritty Premier League team) and assuming it's a banker win. It may well be, but what about if there opposition, say Man City have been playing a Champions League tie in Ukraine on Wednesday night? Would you still be comfortable backing Man City? I would always be wary of backing teams who have been playing in Europe during the mid-week, simply because of the gruelling physical nature of the Premier League. While the top Premier League teams might not be as strong as the likes of Barcelona, Real Madrid, and Bayern Munich, I think the mid ranking and lower ranking teams in the Premier League are far better than their comparisons in Spain, Germany, and Italy. There are no easy Premier League games, and for that reason backing the underdog in this situation usually proves quite a profitable tactic over time.
Best New Customer Betting Offers
Bet365
We've said it before and we'll say again, If you are only going to join one sports betting account, make sure you choose bet365! Without a doubt the best online sports bookmaker, with the biggest new customer offer, a fantastic £200 deposit bonus for all new customers! It's a customer friendly offer, which is based on your first deposit (matched up to £200) and unlike many other online bookmakers, the bonus bets can be split across a number of bets. This makes the bet365 new customer betting offer especially suited for a full weekend of Premier League football, when the fixtures are often staggered across Saturday afternoon, evening and Sunday afternoon.  
Bet365 offer a comprehensive range of Premier League betting markets. All the usual football betting markets including; Match Odds, Correct Score, Half Time/Full Time, Goals Over/Under, Both Teams To Score, Goal Scorers, Scorecast, Wincast and many more. The only slight flaw we notice is the lack of booking betting markets, but overall bet365 offer a fantastic Premier League betting experience.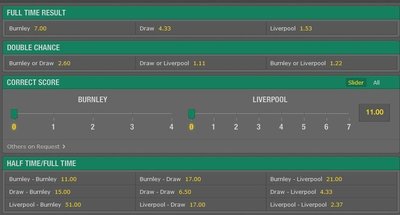 Bet365 offer fantastically competitive betting odds for Premier League football and are consistently best priced for many different Premier League football bets. To give you some perspective, of the 120 bets in our Premier League Summary Betting Guide, bet365 were best priced in 39 of those bets. In such a competitive market that is truly impressive and a great reason to make sure you have a betting account with bet365! As a general rule of thumb bet365 will have approximately 125 betting markets for a live televised Premier League game and slightly less (120) for non-live televised Premier League game.

More about bet365
BetVictor
BetVictor is a sports bookmaker who doesn't get as much media exposure as some of the louder bookmakers who are particularly vocal on social media. However it would be foolish to dismiss BetVictor if you're looking for a reliable online sports bookmaker offering highly competitive Premier League football odds.
BetVictor's 2015/2016 TV advert focused on a very simple reason why you should use BetVictor. PuSave t simply, BetVictor have had the best odds on Premier League football most often over the last five years.
It's worth clarifying that this statistic refers to match odds specifically, rather than all Premier League football betting markets.
Another advantage betting with BetVictor is the price promise for any bets containing five or more match betting markets, across the Premier League (and any other football leagues). If your bet wins, and you would have won more money with any other major bookmakers, BetVictor will top up the difference.
If you value great service, good value and a depth of Premier League betting markets to bet on, you could do a lot worse than join and bet with BetVictor. BetVictor have just enhanced their sign up offer for the 2016/17 Premier League season from the usual £25 matched free bet, to a fantastic bet £10 get £60 (£30 sports bonus funds and £30 casino bonus funds).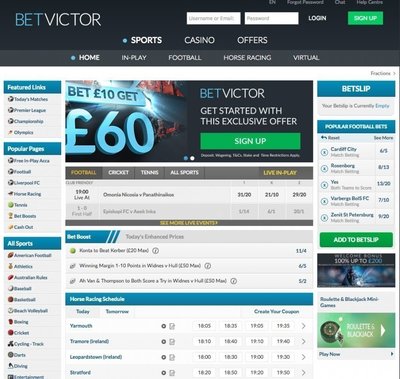 More about BetVictor
Betfred
Betfred are a traditional online sports bookmaker, who offers an outstanding range of Premier League betting markets. It's always good idea to register and join at least a handful of online sports bookmakers, simply because not one bookmaker will always offer the best odds for Premier League football.
Betfred are currently offering new customers a bet £10 get £30 free bet. Given the array of existing customer offers (which will be discussed below) which are specifically geared to the Premier League, it's well worth joining Betfred as a new customer to coincide with the new Premier League season.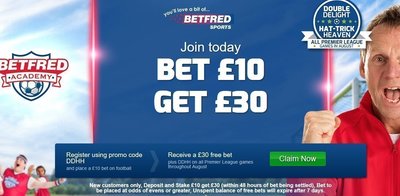 More about Betfred
Best Existing Customer Betting Offers
Bet365
Bet365 not only offer new customers a great £200 deposit bonus, but also rewards existing customers betting on the Premier League with the following offers.
£50 Risk Free Bet (Inplay Offer)
Bet365 regularly offer a risk free £50 in play bet on a number of Premier League games over the season. It tends to be on the more high profile games involving the bigger Premier League teams, which are featured on live television.
For example bet365 offered this for the first weekend of the Premier League season, for the Arsenal vs Liverpool match. In order to qualify for this offer, you must place a pre-match bet on the game the offers relates to, and then bet365 will give you effectively a risk free in-play bet to the same stake (maximum of £50) on the respective game.

Euro Soccer Bonus
Bet365's so called 'Euro Soccer Bonus' gives customers a chance to earn 100% more on their potential betting returns when you place accumulator bets on the Premier League. In order to qualify, you must place a pre-match accumulator bet, which includes at least three or more selections. The selections applicable include Full Time Result or Result/Both Teams To Score. If your bet wins bet365 will add the bonus to your returns.
This offer also applies to bets placed on the Bundesliga, Primera Liga, Serie A and Champions League.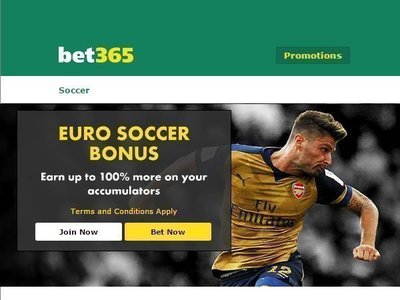 Bore Draw Money Back
Another season long Premier League offer, the 'Bore Draw Money Back' offer gives you the opportunity to get your money back if a Premier League game finishes 0-0. In order to qualify, place a pre-match bet on any Correct Score, Half-Time/Full-Time or Scorecast betting market, and if the game finishes 0-0, bet365 will refund your stake (if the bet losses). This offer is perfect for giving you some insurance on those bore draw 0-0 Premier League matches.  
If you cash out, the refund will only apply to the remaining stake, or if fully cashed out this offer will of course not apply.
This offer applies to ALL SOCCER matches.

Not with bet365? Join & Bet with bet365 here!
Betfred
Betfred offer some great Premier League specific existing customer betting offers. Check them out:
Double Delight/Hat-Trick Heaven
Betfred's core Premier League football offer, Double Delight/Hat-Trick Heaven, is a fantastic offer for those who enjoy a bet on first goalscorer. For first goalscorer bets, Betfred offers double the odds if your first goalscorer bet selection scores a second goal, and triple the odds if your selection scores a hat-trick. The offer applies to most televised Premier league games.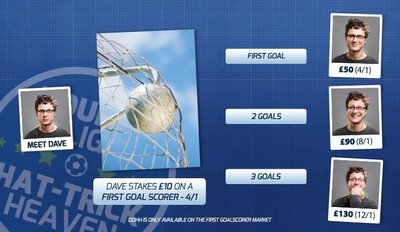 Throughout August this promotion applies too ALL Premier League matches, when players sign up and enter the promo codes 'DDHH' or 'MDDHH.'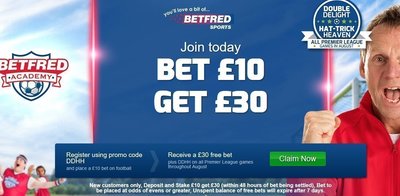 Not with Betfred? Join & Bet with Betfred here!
Francois is one of Howtobet4free's co-founders and has written many of Howtobet4free's popular Betting Guides. Francois also helps run the @howtobet4free_ Twitter account