CURRENT MATCH ODDS (BEST PRICED ODDS)
Manchester United: 6/5 (with Betfair Sportsbook - Bet Here!)
Draw: (12/5 with bet365 - Bet Here!)
Liverpool: 13/5 (with Skybet - Bet Here!)
The Premier League returns this weekend with all eyes on Old Trafford. Just over a month ago, the two sides met at Anfield and Manchester United neutralised Liverpool's effervescent attack. Now the boot is on the other foot; United are the form team and Liverpool are looking for ways to stop them. This isn't a clash for the faint-hearted with a white-hot atmosphere generated by supporters and transmitted to players who give each other no quarter.
Jose Mourinho threw a spanner into the Liverpool works that day when he fielded Ashley Young as a makeshift wing-back. Repeating that this time around won't be so much of a surprise; it's like-for-like with Antonio Valencia but the 'Special One' never typically conceded many goals against Liverpool in any match previously, a record he'll be looking to continue at Old Trafford this weekend. And when the important matches came around, he invariably found the winning answer.
MANCHESTER UNITED
This is the fiftieth Premier League meeting between the two sides with United's dominance of the competition's first two decades. With both clubs aiming to get back to the top of the table, this should be a cracking match, provided the fear of losing isn't too great. Having hauled themselves back into contention for the Champions League places, the last thing United want is to lose ground once again. Liverpool meanwhile, know a win would make a massive statement following Chelsea's defeat at Tottenham.
United are in the best form of Jose Mourinho's short reign and more than that, they are winning with a bit of panache. They still haven't found the overpowering flair of Sir Alex Ferguson's sides but with nine wins in a row under their belt, United are in a groove. The only caveat is that, Tottenham aside, this is a step-up in class in terms of the opposition. Going into the game, Mourinho only has two injury worries with Zlatan Ibrahimovic and Marcos Rojo missing the EFL Cup win over Hull City. The Swede is expected to recover from his illness although Wayne Rooney is a capable deputy, but Rojo is set to miss out with Mateo Darmian covering for him.
Eric Bailly is away with the Ivory Coast at the Africa Cup of Nations and isn't expected to be back in the United side until mid-February at the earliest.
At Anfield earlier this season, Mourinho set his side out with the explicit intention of not losing. Nicking a winner was ideal but not losing was important; this time around, it will be different. United won't be gung-ho but they will be more attack-minded. It's not as the fallen Premier League champions haven't got the personnel to call on?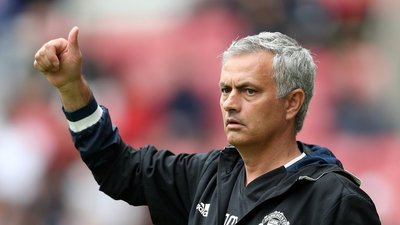 Mourinho will know his players tired on that Monday night in L4 with Liverpool finding more space in the final half-an-hour. That's the situation he'll want to recreate on Sunday except this time in his favour. At this point in the season, Liverpool ought to be the fresher of the two teams having played fewer games thanks to missing out on Europe last year. However, Mourinho's sides have never lacked for stamina and with the heavy rotation he used in the cups, weariness ought not to be a problem.
This is a match when the big players need to stand up and be counted, particularly in attack. United's defence has a fragile look about it with Jones and Smalling a makeshift pairing at best so the other end of the pitch will be important. If Zlatan isn't fit, Wayne Rooney, fresh from his record-breaking exploits, is certainly understands the importance of this one. With the weight of the goalscoring record off his shoulders, will we see a resurgence in his form? It's overdue and Tuesday's events capped off the season so far, having become England's leading goalscorer as well. You get the feeling that this is a time when Rooney can come up with the goods if needed.
Mourinho won't be worried by such things; he wants three points and is happy no matter who scores the winner!
LIVERPOOL
It hasn't been the best of times for Liverpool recently. Poor finishing deprived them of victory at Anfield against Plymouth in last Sunday's FA Cup clash and Jürgen Klopp was baffled by his side's sluggishness in the first leg of the EFL Cup semi-final at Southampton. They need to get back on track and if they can't be inspired by this fixture, then it's hard to see which game with shake the lethargy. Sadio Mane's absence was patently obvious at St Mary's but the rot set in against Sunderland. After beating Manchester City, there was no doubt that there was an adverse reaction on Wearside. Klopp can only hope they've got that out of their system.
Other absentees are costing Liverpool with Joel Matip and Jordan Henderson both doubtful for this match. Unless they are both on life-support machines, don't be surprised if the pair are in the starting line-up on Sunday. It's that important.
One man who won't be – surely – is Loris Karius whose performance in midweek has led to a clamour for Simon Mignolet to return; that's how bad things have got at Anfield! The Belgian, persona non-grata for a while and cutting a sullen figure on the bench, has become a saviour as Karius proves more hapless. Contrast that with Manchester United's David De Gea and the gulf in class is self-evident. It harks back to the days when Ray Clemence wore the goalkeeper's jersey for Liverpool and United lined-up with Paddy Roche in goal. The boot is firmly on the other foot.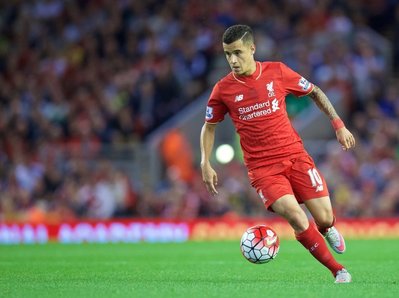 It's not all doom and gloom for Klopp by a long way. The return of Philippe Coutinho for a thirty-minute runout on Wednesday was probably the only good news for the night for the German. The Brazilian, heavily linked with a move to Barcelona or Paris St Germain this summer, is a key player in the Liverpool side at the best of times but with Mane absent, he needs to find his goalscoring touch as quickly as possible. He, Adam Lallana and Roberto Firmino are vital if Liverpool are to enjoy any kind of success at Old Trafford.
Lallana is in the form of his career. Seven goals and seven assists this season in sixteen starts is a phenomenal return and the highest stats by any England international in the Premier League. Daniel Sturridge by contrast, is in hit or miss form – his goals against Sunderland and Stoke are his only strikes in his twelve appearances so far. That return will improve if he can keep himself fit but his injury record sadly suggests it might not be the case.
With the Premier League big boys all grouping together – only five points separate second from sixth – not losing is Klopp's first requirement and with Chelsea and Tottenham both travelling to Anfield in the next four weeks, wins in those two games and on Sunday would put Liverpool firmly back in the title race.
FORM (Last six games)
Manchester United - WWWWWW
Liverpool - WWWDDL
STATS
United have won 6 of the last 7 meetings between the two sides at Old Trafford.
Liverpool are unbeaten in their last 6 Premier League matches.
Steven Gerrard is the only player to score more goals than Wayne Rooney in this Premier League fixture.
Juan Mata has scored 3 and created 2 goals in his last 4 against Liverpool in the Premier League.
The last four games between these two sides have featured Under 2.5 goals.

HEAD TO HEAD
Last six meetings
17/10/2016    Premier League - Liverpool        0 : 0    Manchester United
17/03/2016    Europa League - Manchester United    1 : 1     Liverpool
10/03/2016    Europa League - Liverpool        2 : 0    Manchester United
17/01/2016    Premier League - Liverpool        0 : 1    Manchester United
12/09/2015    Premier League - Manchester United    3 : 1     Liverpool
22/03/2015    Premier League - Liverpool        1 : 2    Manchester United
SUMMING UP!
The formbook always goes out of the window in a local derby and while the two clubs are separated by the M62, this has all the ferocity of a more local game. It's a match which sees little quarter asked for and none given. Yet, there's a nagging doubt that either side is as good as their Premier League positions suggest. We'll get some answers in coming weeks but both look vulnerable at the back while Liverpool lack potency in Mane's absence.
This a big test for Mourinho's team and one they will relish. They are favourites with the bookies and Liverpool are edged out of the betting by a draw. Despite the points being shared at Anfield, it's hard to see Liverpool winning this. A draw might be considered a good result by them in the end.
MY PREDICTION
Manchester United 2 – 0 Liverpool - 10/1 with Betfred – Bet here!
MY RECOMMENDED BETS
Francois is one of Howtobet4free's co-founders and has written many of Howtobet4free's popular Betting Guides. Francois also helps run the @howtobet4free_ Twitter account