As the season races into the final furlong, the canter towards the title by odd on favorites Chelsea looks like being a run in without to many fences to jump, and for them to end up in the winners enclosure all but looks a racing certainty. Their nearest challengers are Spurs, who have been using the whip to ensure that they have turned up the pressure on their London rivals and this weekend could allow them to at least cause Antonio Conte to check behind.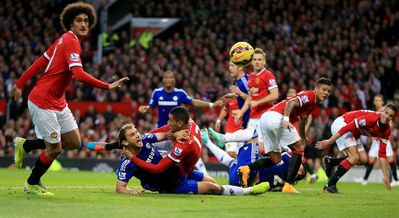 Can Manchester United place Chelsea's title charge in doubt this weekend?
Their hosts this weekend are Manchester United, who are of course lead by former boss Jose Mourinho, who will be desperate for his side to remain in the fight for a top four spot to ensure that his side qualify for next year's Champions League, while seeking to put one over on his former employers. There were fractious moments when the two sides meet in March. The 1-0 defeat to his former side in the FA cup fifth round tie included a bust up with Conte, annoying the home side supporters by reminding them of how many titles he had won with Chelsea.  
Again, as last time the two sides met, European football may cause the former champions United to come into the game a little under prepared. The 1-1 draw against Anderlecht on Thursday showed glimpses of Manchester United at their best, but failing to kill the tie dead means that they will have work to do when they meet at Old Trafford next week and may cause them to take their eye off the ball on a fixture which is crucial to the position in which The Red Devils finish the season.
Chelsea themselves will be wary of letting Spurs gain any confidence by allowing them to close the gap to them, and will use this game to showcase how well the side are drilled and organized under Conte. The game has talking points written all over it, and at the end a number of questions will have been answered, but also a whole host of new ones may appear should Mourinho mastermind a huge win over Chelsea.
MANCHESTER UNITED
(Form guide -WWDDWD)
Manchester United's inability to kill Anderlecht off in the Europa League this week, highlighted the reason why United, despite losing just three games in the league all season, are struggling to ensure that they make it into the top four at the end of the campaign. The Old Trafford side are one of the strongest sides in the league, but failure to turn one point into all three has cost the side dearly. Mourinho's men have collected 12 draws this season, eight more than the league leaders Chelsea who have lost a game more than their hosts this weekend.
Paul Pogba's presence in this game will be watched with every step. The French international's performances since his world record breaking move from Juventus in the summer has flattered to deceive and called many to question his ability to become the star man in Mourinho's plans for the future. N'golo Kante, who is a hot favorite to win PFA Player of The Year dominated his international colleague during the 1-0 defeat in the FA cup back in March.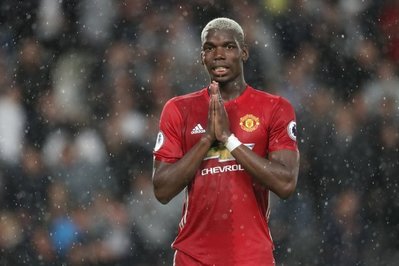 A huge performance is needed by Paul Pogba to help his side continue in the fight for a top four finish.
The sheer amount of draws the side have collected has shown the way in which Manchester United have changed under The Portuguese boss, defensively they are up there with the likes of Chelsea and Spurs, but offensively they are worse at home in the goal scoring department than Burnley, West Brom and Bournemouth.
The game on Easter Sunday is a big one for United, they are six points behind Liverpool, but they have two games in hand over their fiercest north west rivals, so Mourinho will put all the extra stuff behind him and give his side the best chance he can of beating Chelsea to keep the dream of securing a Champions League spot alive, which must have been the boards real expectations when they appointed Jose Mourinho.
CHELSEA
(Form Guide - WWWWW)
No matter what Spurs do, Chelsea will not give them a sniff of catching them at the moment. Since The Blue's last loss, which was to the North London side on the 4th of January, they have dropped just four points in draws to Burnley and Liverpool, proving just how good Spurs have been to be considered still within a chance of putting Chelsea under some kind of pressure.
This weekend will all but seal it for the Italian manager Antonio Conte should he get one over Manchester United, and the former Italy boss will need to use all of his experience to ensure that his side doesn't allow Spurs to close the gap.
The form that the champions elect are in is unbelievable, the run leading up to January's defeat to Spurs set up the title procession, but since the loss to their nearest rival, Chelsea have gone on just as strong and it is down to Spur's resilience that has allowed them to at least keep their fellow London side honest.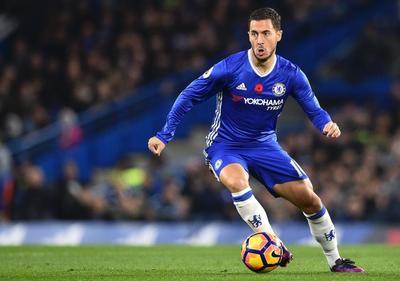 Will Eden Hazard prove to be the difference for his title charging Chelsea side when they visit Old Trafford this weekend?
With two of their stars being named in the PFA Player of The Year nomination in Eden Hazard and N'Golo Kante, the Blues look like finishing the season with a clutch of awards and with Antonio Conte guiding his side to Premier League success, Chelsea look like being a side that may just be the team to beat over the next few years.
STATS
Manchester United score on average score 1.6 goals per game, their visitors this weekend Chelsea score on average 2.1 goals per game.
Paul Pogba has won the Man of the Match award four times this season in the Premier League, whilst Chelsea star man Eden Hazard has won it twelve times.
Manchester United win on average 18.1 aerial duels per game, overshadowing their opponents who win just 14.7.
The two sides are very similar in terms of possession and passing success. Manchester United on average have 57% of the ball during games and complete 85% of their passes with their opponents Chelsea keeping 54% of the ball and complete 84% of their passes. 
CURRENT MATCH ODDS (BEST PRICED ODDS)
Manchester United: 9/5 with bet365 - Bet Here!
Draw: 11/5 with Betfair Sportsbook - Bet Here!
Chelsea: 9/5 with Sky Bet - Bet Here!
MY PREDICTION
A close game this but expect Chelsea's freshness and determination to see the job done, prove too much for Manchester United. 2-1 to the league leaders looks likely here.
SUMMING UP
Manchester United's continuation in the Europa League told us a few things. They still haven't managed to find a way to kill important games off and their squad is struggling to deal with the amount of games they have had to face over the last few months. Their visitors this weekend Chelsea, look absolutely unstoppable in their quest to hand Antonio Conte the title in his debut season in English football. This game is vitally important to both sides in their respective aims this season and expect Chelsea's ability to rest their squad ahead of games to prove a vital boost in this game. Chelsea's form and fitness superiority will prove to be too much for United here in a 2-1 win. 
MY RECOMMENDED BETS
Place 5 x £10 or more bets to receive £20 in free bets. Repeat up to 5 times to receive maximum £100 bonus. Min odds 1/2 (1.5). Exchange bets excluded. T&Cs apply.T
Click to Claim
Paul is an aspiring sports journalist. His team is Scarborough Athletic (soft spot for Hull City). Paul was on the pitch when Scarborough were relegated by a last minute goal by Carlisle goalkeeper Jimmy Glass. In his previous life as a chef, Paul cooked for Neil Warnock and the Leeds United team. Paul will preview English football games.