Latest Best Priced Odds
Roger Federer - 11/10 (with bet365 – Bet here!)
A fortnight ago, the prospect of a Federer v Nadal final at this year's Australian Open seemed fanciful; wistful thinking of days gone by. When Novak Djokovic crashed out and stayed long enough to hold the exit door open for Andy Murray, it was a battle between age and experience. Could the old hands upstage the young pretenders?
Yes, is the answer delivered resoundingly by Roger Federer and Rafa Nadal.
The Spaniard leads 9 – 7 in head-to-head meetings on hard courts. The gap is an astonishing 8 – 2 at outdoor tournaments, including a 3 – 0 lead at the Australian Open, including the 2009 final which Nadal won in five sets.
Can Federer win at the fourth time of asking or is Nadal going to triumph having lost his past two appearances in the Australian Open final?
Roger Federer
In his darkest moments last year, the 'Housewives Darling' contemplated retirement. In Melbourne, his play en route to the final has rolled back the years. Andy Murray's conqueror, Mischa Zverev, was swatted away in a straight sets 6 – 1, 7 – 5, 6 – 2 victory in the last eight.
Federer followed that with an epic win over fellow Swiss Stan Wawrinka. Two sets up, he let the next two slip before rallying to take the tie in final and decisive set, 6 – 3. It was a pulsating match
That victory set Federer as the second male in the post-war era to reach six finals, his first since 2010 when he beat Andy Murray in straight sets.
Federer's popularity shows no sign of waning. The partisan crowd's cacophony at the end of the Wawrinka semi-final underlines his opponent in the final isn't just facing one of tennis' greats, he'll have the energy of a significant portion of the capacity 14,820 crowd behind him.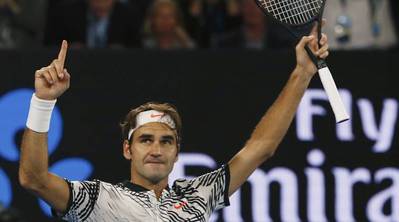 Well, he might be were it not Rafa Nadal he is facing. The Spaniard remains hugely popular as the reaction to his titanic semi-final win over Grigor Dimitrov.
Not that his return to the top has been universally welcomed. Locker room gossip forced tournament chief Craig Tiley to deny the courts were deliberately sped up to suit the Swiss giant's game.
The forceful denial, citing the other clay court specialists who reached the last four, hasn't entirely silenced the critics. Resurfacing the show courts "a little earlier" than normal may accidentally have given the surface more speed at the start, Tiley admitted. Craig O'Shannessy, a prominent analyst and coach, put Federer's success down to "his all-out aggression and swarming style of play".
It's certainly hard to argue with that assessment. Hampered by injuries and their mental impact, Federer has been a shadow of himself. Now there's a renewed belief in himself, he's reminded us all what a fantastic player he was in his prime.
The man is more relaxed about his expectations. They haven't changed beyond doing his best but there's a recognition that, in the twilight of his career, he isn't the tournament favourite every time.
"I was talking to myself, saying, 'Just relax, man,'" he told reporters afterwards. Beating Wawrinka needed Federer to relax, "'Let it fly off your racquet and see what happens.'"
It's something he's carrying forward to the match against Nadal, "That's the mindset I need to have in the final. It has worked very well so far."
Rafa Nadal
His five-set victory over Dimitrov was as riveting as any match in this tournament. Dominance swapped between both men but when the clock stopped four minutes' shy of five hours, it was Nadal who celebrated with a 6 – 3, 5 – 7, 7 – 6, 6 – 7, 6 – 4 victory.
It was an incredible victory and sets him on course to meet his nemesis, Roger Federer, who by coincidence happens to be a good friend. When Nadal opened a new tennis centre last year, it was the Swiss whom he invited as guest of honour. That friendship will resume next week; on the plexicushion surface, they will be the best of enemies.
2017 hasn't erased a tortuous 2016 but it's certainly reignited the fire in the Mallorquin's belly. The fighting spirit surfaced relatively early in this tournament. Straight sets wins over Mayer and Baghdatis sent Nadal through to a third round meeting with Andrey Zverev; four sets were needed to beat the German as they were in disposing of Gael Monfils.
But it was in the quarter-finals when the world took notice. An emphatic win over Milos Raonic, 6 – 4, 7 – 6, 6 – 4, put him up against Dimitrov in the last four. The Bulgarian was the ideal opponent for Nadal. Nicknamed "Little Roger", his style was the perfect warm-up for the final.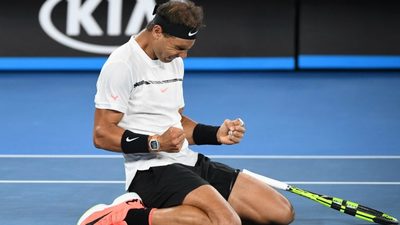 And in achieving that win, Nadal dug deep into his psyche and drew on every ounce of experience to take victory. He wasn't imperious, with plenty of unforced errors but when the fifth set started, he adopted a safety-first attitude, concentrating on hitting the ball, forcing errors from his opponent. It was classic tournament play.
The final will be different. "Old Roger" is more ruthless than his imitator but Nadal will be focussing on the way Federer plays to achieve victory.
"I believe a lot in specifics training," his coach Carlos Moya opined. "It is something I used with Raonic, and adapting a lot of those exercises to Nadal is important because they are completely distinct players. We want to focus a lot on the repetition of what you have to do in matches."
So far, it's worked and with a 100% record against his old foe in their three previous Australian open wins, Nadal has the psychological edge in this battle.
Who Will Win?
It's a tough call but Rafa Nadal is favourite to win his first Australian Open since 2009. The Spaniard is 4/5 (with BetVictor – Bet Here!) while Federer is 11/10 (with bet365 – Bet here!).
Will Federer's six-month absence through injury tell on his stamina? If it does, Nadal answered the questions about whether he could exploit that during his run to the final.
With an overall record of 23 wins to 11 in the head-to-head, including 9 – 2 on hard courts, Nadal has history behind him and a strong desire to take his first major since 2014. While Federer may be the people's favourite, Nadal is tops with the bookmakers for good reason.
Francois is one of Howtobet4free's co-founders and has written many of Howtobet4free's popular Betting Guides. Francois also helps run the @howtobet4free_ Twitter account