Placing Accumulator Bets
Most online bookmakers will automatically add different selections to the betting slip as they are made. As the betting slip builds up it will show each bet, and then the list of possible bets below. The accumulator selection will show either as an accumulator, or the term used to describe the multiple involving all the selections (e.g. three-fold, four fold etc). The accumulator selection will always be the one with just one bet required, shown in image 1 with a (1) indicating one bet covering all selections, rather than several multiples bets.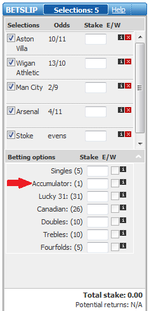 With accumulator bets the stake entered will be re-confirmed as the total stake, whereas other bet options will involve a total stake higher than the stake entered on the slip. The total odds and total possible return will be shown before the bet is confirmed as shown in image 2 with a £10 stake returning £90.60 if all selections, and consequently the accumulator, win. This allows extra games to be added or removed from the slip as the accumulator is built up.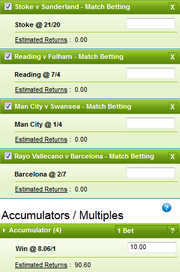 Interdependent selections:
Some selections in the same match are interdependent and therefore it is not possible to accumulate choices together. For example in Wayne Rooney to score anytime is Even money and Manchester United to win is also Even money the odds on Wayne Rooney scoring anytime and Manchester United winning will not accumulate to 3/1 as two other selections at Evens would. This is because if Wayne Rooney scores anytime it is more likely than Evens that Manchester United will win, and vice versa. In this case the bookmaker will not allow the bet to be placed.
Jon is one of Howtobet4free's co-founders and as well as producing content for the site also helps run the @howtobet4free_ Twitter account and Cheltenham Festival Facebook page. Jon works in Marketing and Communications in professional sport.