Liability and Total Risk
It is important to realise that the stake in spread betting is per unit, and not the entire stake that is actually bet. For this reason spread betting bookmakers issue a risk warning which reads that it is possible to "lose more than your original stake". This is simply because the term stake is different from fixed odds betting, when stake refers to the total money outlayed on the bet. As well as losing more than the stake it is obviously very possible to win far more than the original stake too. Image 1 shows the acceptance page of these terms that is shown when registering a spread betting account.

In spread betting the total liability amount can be worked out by considering the worst case scenario of the bet placed. If buying then the total liability would be lowest possible settlement price and if selling the total liability would be the highest possible settlement price. In the examples shown below the betting slip is set to show the maximum win and maximum risk when placing any bet. This feature can be turned on or off in an account.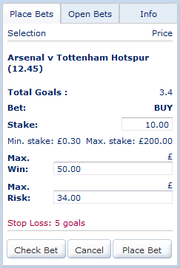 An example of the total risk when buying is shown in image 2. This shows the total goals market for an Arsenal Vs Tottenham Premier League game. The stake is £10 per goal and as the opening price is 3.4 to buy, then the maximum risk is £34 (3.4 times the £10 stake) which would be lost if the settlement price was zero goals. Note the maximum win when buying is capped by the stop loss (see 'Stop Loss Accounts').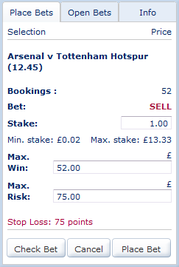 An example of the total risk when selling is shown in image 3. This shows the total bookings market for an Arsenal Vs Tottenham Premier League game. The stake is £1 per booking point and as the opening price is 52 to sell this means the maximum risk is £75 (75 times £1). This is because in theory there could be a huge number of cards shown therefore a stop loss would apply on all stop loss accounts (see 'stop loss accounts' below). Note the maximum win when selling would be £52 (52 times the £1 stake) and would happen if there were zero bookings points.
As a number of spread betting markets have the possibility of settling as a huge number there are two ways bookmakers protect players from large risk proportionate to stake and allow betting at sensible stakes. These are to offer a stop loss account to customers and by extending credit.
Stop Loss Accounts
When registering with an online spread betting site the option of taking a stop loss account will be offered as shown in image 4. A stop loss account can cap profit and loss to an upper and lower parameter on the market range. This still ensures a range of payouts and the excitement of spread betting however protects against the extremity of profit or loss from unusual results. A non stop loss account conversely will settle at the final result regardless of how unusual this is, for example if there were 10 goals or 25 corner kicks in a game of football.

Available Credit
The maximum stake permitted for each bet will reflect the upper or lower threshold of the market and the available balance. The bookmaker will calculate the maximum possible loss and may only allow the bet if the account balance can cover this. This will be to avoid the customer going into a negative balance and owing money. There may be an option to request a credit limit upon sign up (as also shown in image 4), or once an account holder, to allow bigger stakes to be bet in these circumstances.
Within reason a bookmaker may allow a liability greater than the available balance (with or without a credit limit) in order to prevent having to cap stakes just in case an unusual result occurs (such as the 10 goals in a game mentioned above). Obviously it is not in the bookmaker's interest to limit stakes, simply on the off chance a highly unusual result occurs. It is important to be aware that when a bet is accepted you would be liable for the loss regardless, and if this took your balance into negative you would need to pay this amount back.
Open a new account with Spreadex, stake £300 in qualifying bets and earn an iPad New 32GB.
Click to Claim
Francois is one of Howtobet4free's co-founders and has written many of Howtobet4free's popular Betting Guides. Francois also helps run the @howtobet4free_ Twitter account