The full time result market will re-price as goals are scored, and as time elapses in the game. The balance of play may also shift prices slightly, as will things like players being sent off or key players being injured.
If a team scores they will then be more likely to win, so their odds will shorten, whereas a team conceding will then be less likely to win and their odds will lengthen. Image 1 shows the pre match full time result prices for a Premier League Match between Norwich and Sunderland.

Image 2 shows a £50 bet being placed on Norwich to win the match. The odds of 2.04 (or 21/20) mean profit of £52.50 and returns of £102.50.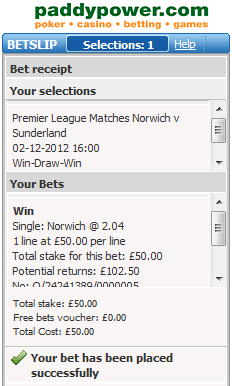 Image 3 shows the half time score of Norwich 2 Sunderland 1.

At half time Norwich lead the game by a goal. Norwich were the pre match favourites, and the home team and therefore leading 2-1 are deemed even more likely to win the game. The price for a full time draw has lengthened from 3.25 (9/4) to 4.50 (7/2), and the price for Sunderland to win has lengthened from 3.75 (11/4) to 12.0 (11/1).
Having back Norwich pre-match for £50, and with potential profit of £52.50 there is an opportunity to back the draw and the Sunderland win. This means you could essentially re-invest some of the possible winnings to cover the other angles. As the odds on the other selections are considerably longer it is possible to guarantee a profit.
In this case £15 on the draw (image 4) and £6 on the Sunderland win (image 5) means the bet becomes risk free, with less profit if Norwich win, but with no loss of the £50 stake if they fail to win. With £21 spent protecting the bet the profit on Norwich would be £31.50 instead of £52.50. Norwich went on to win the match as shown in image 6) so in this case this £21 would have been forfeited on a bet that went on to win anyway.

Jon is one of Howtobet4free's co-founders and as well as producing content for the site also helps run the @howtobet4free_ Twitter account and Cheltenham Festival Facebook page. Jon works in Marketing and Communications in professional sport.