The total corners market is becoming increasingly popular among football fans. This gives another aspect of the game to bet on, and is not reliant on the performance of one team. Corners are also deemed to be a more accurate indicator of the quality of a game, and the amount of attacking, entertaining end to end play than goals.
As with other totals markets as time elapses with no corners the odds on lots of corners will lengthen, and when corners take place the odds on less corners will lengthen. Similarly some corners markets and selections will settle as the game progresses, if there are enough corners for a selection to no longer be possible.
Image 1 shows a bet on over 10.5 corners for £20 at 1.83 (5/6). This would give £16.60 profit, £36.60 return.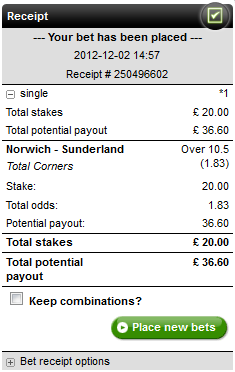 Image 2 shows the state of play after 77 minutes in the match. 8 corners have been taken (3 short of the amount required to win the bet above) with just 13 minutes of the game remaining.

The odds in play at 77 minutes on under 10.5 corners (the opposing bet) are just 1.28 (2/7). As this is short odds there is no option to protect any profit, and instead by opposing the bet would cut losses. By backing £20 on this selection £5.60 would be recouped, at a cost of £20 of the potential (unlikely) winnings. This would cut losses and mean if there were under 10.5 corners the loss would be less than the total stake originally placed. Obviously if this cutting of losses was taken and the original bet won due to a late flurry of corners, the winnings would be forfeited.
In-Play Betting Summary
In play markets can give great excitement to betting. They can also bring in another level of skill to betting when deciding when and how to place bets, particularly working around existing bets.
We advise studying how the different markets move in play carefully through a number of games before betting in play. We also recommend starting with low stakes when betting in play for the first time.
Jon is one of Howtobet4free's co-founders and as well as producing content for the site also helps run the @howtobet4free_ Twitter account and Cheltenham Festival Facebook page. Jon works in Marketing and Communications in professional sport.