The total goals market will re-price through the game. As time elapses without a goal being scored the odds on less goals shorten, and on more goals lengthen. When a goal is scored the prices on less goals lengthen and on more goals shorten. A goal being scored will dramatically shift prices, particularly late in the game. Other occurrences can also shift the price on total goals. For example a sending off may mean goals are more likely from the team with 11 men on the field. As another example a goal for an unfancied team can shift prices with goals again more likely as the fancied team is expected to come back.
There are a number of different ways goals markets can run. Some simply price an over/under to a given number of goals. This price is quoted as a half goal, in order to force a definite result. As an example a market of over/under 2.5 goals is a popular pre match market as this is around the middle for an average match. Other markets group goals together; the most common on these has three settlements '0 or 1 goals', '2 or 3 goals' and '4 or more goals'.
As goals are scored in play certain markets will settle, and certain selections are no longer offered. For example as a second goal is scored the over/under 1.5 goals market will no longer run, and the 0 or 1 goals selection will be removed, with shorter odds given to the '2 or 3 goals' and '4 goals or more' selections.
In image 1 we show the pre match goals market for the Newcastle Vs Wigan Premier League Match. A selection is made to back goals at 11/5 (3.20) for £10 as shown in image 2.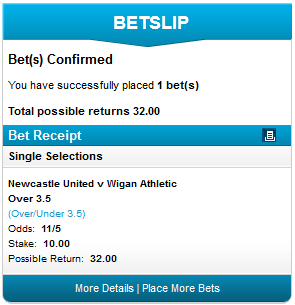 Image 3 shows the half time score of 2-0 to Newcastle. The odds for under 3.5 goals are set at 31/40 (1.77) which is longer odds and better value than the pre match price of 1/3 (1.33).

The pre match bet was over 3.5 goals, and as more than 3.5 goals is more likely at half time than pre-match, there is an option to back the opposite bet. The pre match bet wagered £10 for possible returns of £32 (i.e. £22 profit). Image 4 shows a bet submission of £11 place on under 3.5 goals at 31/40 (1.77). This takes £11 of the possible profit and bets on under 3.5 goals. This forfeits half the profit in order to cover £8.52 of the £10 original stake.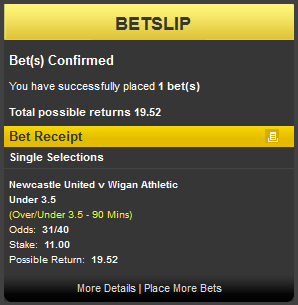 The final score was 3-0 to Newcastle as shown in image 5. This means the original bet on over 3.5 goals actually lost, and the profit on the in play bet on under 3.5 goals was won, to cover the majority of the stake. In this case, unlike the example of betting against Norwich in play, the in play bet was the correct move, and prevented a total loss of the stake. This is shown in image 6 where the account history shows the over 3.5 goals bet losing, however the under 3.5 goals bet in play winning.

Jon is one of Howtobet4free's co-founders and as well as producing content for the site also helps run the @howtobet4free_ Twitter account and Cheltenham Festival Facebook page. Jon works in Marketing and Communications in professional sport.