Player Goal Minutes
Market Overview
The Player Goal Minutes spread market considers the total minutes of each goal scored by one player in a game. Individual players are each set opening prices for their own performance. So if you were to take the view that a certain player was going to play well and score, you would buy in their goal minutes market, and if you felt the player was not going to score you would sell in their goal minutes market.
When placing a player goal minutes bet the profit or loss on the player not scoring is at zero goal minutes, however the maximum points settlement could be very high (consequently as could be maximum profit or loss), if for example the player scored a hat trick late in the game. This market is priced on the total goal minutes, so a striker with a good recent record who would be a front runner in a fixed odds first goalscorers market may be around 25 minutes. A midfielder may be around 10-15 minutes depending on their goal scoring reputation and form while a defender who is unlikely to score may be well below 10 minutes. All players are presented together with players quoted as higher minutes more likely to score. As an example image 1 shows the player goal minutes offered for the Premier League game between Stoke City and QPR.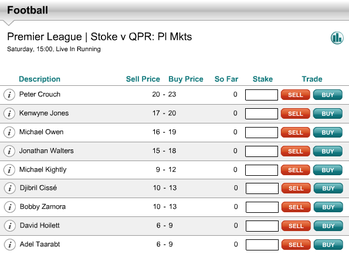 The player goal minutes market is very volatile, with considerations such as the player being sent off, injured or substituted affecting the ability to accumulate goal scoring minutes. The state of the game can also be a factor, for example if a team leads and then sits back to protect the lead. The market can also be frustrating if a player scores goals early in the game however the returns fail to cover the market price and therefore a loss is made regardless.
Buying
The market particularly appeals as when buying player goal minutes it is possible to stake and see the exact total liability, and have potential winnings which far outweigh this. If in the match between Stoke City and QPR you fancied Peter Crouch to score you might buy his goal minutes at 23 for let's suppose £1 per minute (as shown in image 2).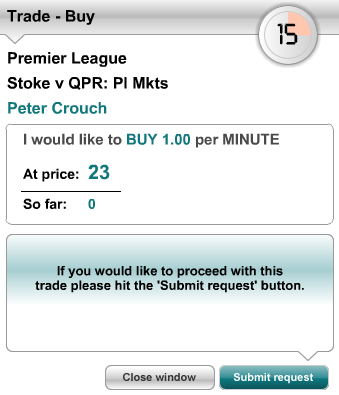 This would mean a total loss of £23 if peter Crouch fails to score, and an addition of £1 for each minute he scores in. So if he scored in the 36th minute and then the 61st minute the settlement price would bet 97 minutes (36 + 61) and a profit of £74 (93 is 74 above the opening price of 23 minutes).
Selling
If you chose a player you did not think would score you may sell their goal minutes. For example if you chose to sell Bobby Zamora at let's suppose £1 a minute the price is 10 minutes. This means the total profit possible would be £10 provided Bobby Zamora does not score. The total losses on this could be high should Bobby Zamora score one or more goals, particularly later in the game.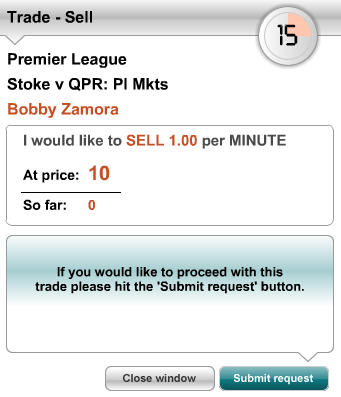 When selling the player goal minutes it is especially important to be aware of the total risk and liability. This is because you are effectively backing that player not to score. At lower opening prices players may be unlikely to score, however if they do (particularly late in the game) this can lead to a large gap between the opening sell price and the settlement price, even considering the stop loss (see below). Image 4 shows the Theo Walcott goal minutes being sold for £1 a minute at 13 minutes in an Arsenal Vs Tottenham Premier League match. The slip breaks down the max win of £13 (if Walcott doesn't score this settles at zero) and a maximum loss of £200 if the minutes settle at 213 or above.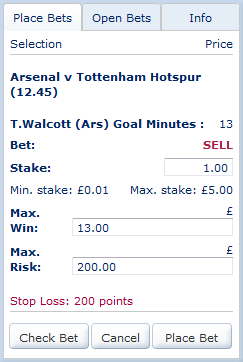 Stop Loss
For player goal minutes a stop loss of a total of 200 minutes will apply. So in the examples above if selling Peter Crouch this would be 220 minutes, if selling Bobby Zamora this would be 210 minutes and if selling Theo Walcott this would be 213 minutes. This means if either player's total goal minutes added up to higher than this the spread would be capped. For buyers the stop loss will not apply, a worst case scenario will always be the zero given if the player fails to score.
Open a new account with Spreadex, stake £300 in qualifying bets and earn an iPad New 32GB.
Click to Claim
Francois is one of Howtobet4free's co-founders and has written many of Howtobet4free's popular Betting Guides. Francois also helps run the @howtobet4free_ Twitter account