Total Bookings
Market Overview
The total bookings spread bet markets are very popular, as with total goals the market is not reliant on the performance of one team, and can also rapidly change. The bookings market will reflect how ill-disciplined a game may turn out, the conduct of individual players and the strictness of the ref taking charge of the match. Bookings are priced in points with 10 points awarded for a yellow card and 25 for a red card. This is so a red card is worth effectively the same as two and a half bookings. A player receiving two yellows would mean a total of 35 points added to the settlement price.
As an example image 1 shows the total bookings market for the Europa League match between Club Brugge and Newcastle. The opening price in this match suggests just under 5 yellow cards are excepted in the game.

Buying
If you thought there could be more than 5 cards shown you would buy at 50 points for let's suppose £1 per point as shown in image 2. This will equate to £10 a booking and £25 per sending off.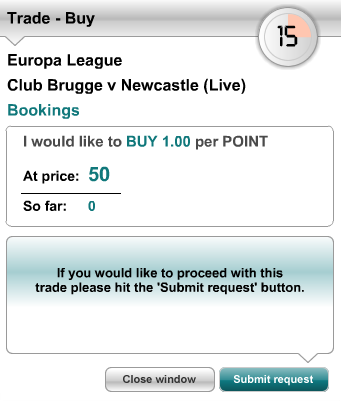 Selling
Alternatively if you took the view that the game would be tamer than predicted then would choose to sell the booking index for let's suppose £1 a point at 46 points as shown in image 3.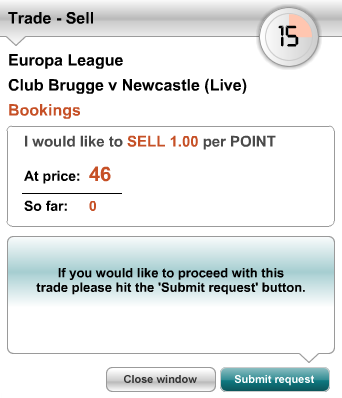 The bookings market can be potentially volatile with the strictness of the referee a consideration. One flashpoint in an otherwise calm game can cause multiple cards to be shown. Also when a game has had several cards things can heat over between players, or the referee can be forced to carry on showing cards for consistency. Similarly if a referee decides against showing cards for certain fouls, a standard of not setting cards may be set and stuck to. Image 4 shows the range of payoff's possible.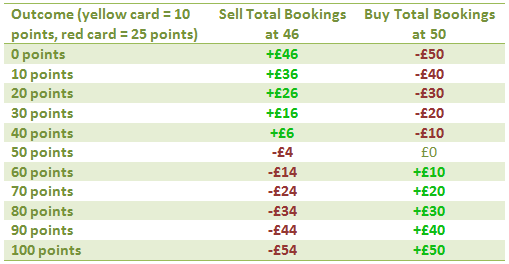 Stop Loss
The stop loss on total bookings is set at 75 points from the opening price. In the Club Brugge Vs Newcastle game if selling at 46 points the stop loss would kick in at 12 points (46 + 75).  If buying the stop loss would not apply (as in theory it would be at -25 points). Note in some local derby and European games the opening price can be higher than 75, in which case the stop loss would apply to sellers.
Image 5 shows the stop loss capping the total risk, if selling total bookings in an Arsenal Vs Tottenham Premier League match. With a £1 stake per point this means the total risk is of £75 which would happen 75 points above from the opening price to sell of 52. If selling the maximum won would be £52 which would happen at zero, 52 points below the opening price.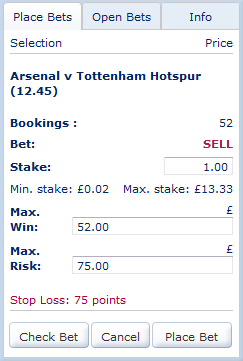 Open a new account with Spreadex, stake £300 in qualifying bets and earn an iPad New 32GB.
Click to Claim
Francois is one of Howtobet4free's co-founders and has written many of Howtobet4free's popular Betting Guides. Francois also helps run the @howtobet4free_ Twitter account